Do you have hundreds of to-do lists lying around? Are you easily distracted by your smartphone? Learn how the bullet journaling system can help you solve these problems and improve your lifestyle. A bullet journal is a productivity tool for organizing your tasks and activities. By completing this course, you will learn to adopt this system to eliminate clutter and boost productivity. Let's start your journaling journey!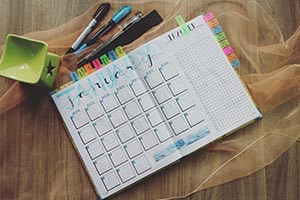 Duration

1.5-3 Hours

Accreditation

CPD
Description
When the creator of The Bullet Journaling system first developed the method, he had no clue that his creation would become such a powerful productivity tool. Perhaps, you've heard about Bullet Journaling, and it triggered an interest. Maybe a couple of your friends even showed you theirs, and you have seen how it improved their lives. According to its founder, The Bullet Journaling System can be described as a mindfulness practice disguised in a productivity system. A Bullet Journal aims to give you the platform to explore your inner self and discover what and why you need to succeed. As such, bullet journaling can increase your mindfulness, boost your productivity and lead you on the exciting road towards achieving your goals. Before getting started, ask yourself questions like, can I set aside time every day to journal? What size of journal should I use? In this free online course, we will guide you through the nitty-gritty of the bullet journaling system to enable you to adopt an exciting journaling habit.
Next, we will examine the history of the bullet journaling system, including the two essential types. We will also present the basic setup procedures, booklet sizes, number of pages, and the equipment and supplies required for this practice. An overview of the hacks and tips of journaling will highlight the use of post-its, artistic masking tapes, divider tabs, and pocket guards. We will show you how to keep track of your daily, weekly and monthly schedules via the daily log. Similarly, we will demonstrate the methods for tracking your future plans (also known as collections). For example, the books you want to read, movies you want to watch can all be planned via the journaling system. Learn how to create an index page, the symbols for creating a key, and why you should write your plans, goals and events for the year on the future log page.
You will learn why a journal is a great reflection tool and how to make journaling a rewarding, lifelong habit. Recent research studies showed that bullet journaling could benefit your mental health by identifying diurnal stressors. This can help you track your habits and moods, aid in how you process emotions and minimize distractions. Similarly, using a bullet journal could help alleviate the Zeigarnik Effect — a psychological phenomenon according to which it's much easier to remember unfinished tasks than completed ones. A 2016 study suggests that expressive writing can improve your control over your physical reactions and anxieties. The ability to be open-minded and embrace change will have a positive ripple effect in all areas of your life, including your mental health, work, and relationships. By completing this course, you will learn how to live a decluttered lifestyle, enhance productivity, and achieve your life goals. So why wait? Enrol for this course today!
Start Course Now