Paper Organization: Maintaining Paper Systems
Learn proven methods to stay organized by managing your cluttered spaces and paper systems in this free online course.
Publisher:

KW Professional Organizers
Paper is the most consistent source of clutter in the average person's space. In this course, you will learn how to stay organized and avoid feeling overwhelmed by the ever-growing pile of paper and other useless junk around your workspace or at home. You will study how to plan the process of decluttering and learn to handle your paper inflow and control system to have a well-organized space around you at all times. Let's get organized!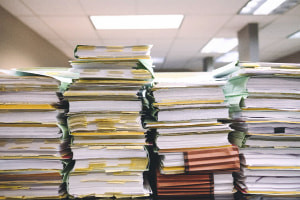 Duration

1.5-3 Hours

Accreditation

CPD
Description
Paper is everywhere around us. It accumulates from receipts, invoices, bills, documents, or mail between our co-workers and families. All this paper quickly turn into clutter if we don't manage it properly. This free online course will show you how to handle and tame paper as it comes in. In doing so, you will gain many benefits, such as having easy access to all your data and information. We'll provide you with practical tips to manage paper and clutter. You'll learn about essential record-keeping and finance management, and we'll show you how to maintain a perfect system that will keep your environment clean and organized at all times.
The introductory module starts by discussing the different types and forms of paper. You will learn about the benefits of handling paper properly, how to create a plan for decluttering, and we'll provide some tips on paper and space organization. Next, we will show you the various methods you can get rid of unwanted paper. You will also learn to use some digital applications that will be useful for time and space management. Subsequently, we'll share some tips concerning the tools and resources you can utilize to stay organized. These solutions include file cabinets or boxes, corkboards, clips and many more systems you can invest in to get organized.
Finally, we'll show you how to handle the receipts you get from daily transactions. We'll discuss why it's important to keep receipts and other essential documents and the challenges caused by keeping them. We'll also show you how to deal with those challenges to keep your space decluttered and organized. The course will also explain how to manage your records during your business month closure. You'll learn to organize your home- and office workspaces. So, if you'd like to take control of your space and all those heaps of paper, look no further than this course. We'll also show you how to go as paperless as possible. Take this simple but effective course to take charge of your paper and space management once and for all. Start today!
Start Course Now