In this free online course, you will learn nine steps that will help you understand what an ideal kitchen or workplace should look like. You will also study how to properly set up your kitchen and create any meal plan using real-life examples and case studies. Start this course today to learn from experts who have vast experience in this field. Sign up now to learn how to create an ideal kitchen space and plan meals to support your lifestyle!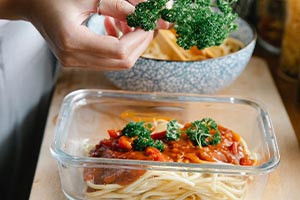 Duration

1.5-3 Hours

Accreditation

CPD
Description
Meal planning is a method of preparing or scheduling your meals for the next few days, a week, or a set period instead of shopping or having to cook every day. This course aims to help you so that your meals are ready in time and help you enjoy foods that will make you healthy. You will start this course with an introduction by Samantha Kristoferson and Emilio Jose Garcia Rodriguez. They are experts in helping people to create the ideal kitchen space and meal planning system that supports their lifestyle. Then, you will learn about the common frustrations that many people face in their daily lives regarding meal planning. You will also learn why it is essential to plan your meals. Emilio and Samantha will both share their experiences on how they started to plan their meals.
Next, you will be taught the "nine" steps to follow when trying to adopt a meal planning system. These steps have been developed by the instructors and will be explained in detail in this section. If you follow these steps, you are guaranteed to succeed in whatever meal plaining system you choose to adopt. Next, you will study how to package and preserve the foods you intend to take out of the house to the office or any other place. We will take you on a tour of a well-designed and organized kitchen. You will learn how to have your kitchen ready to do your meal planning. We will lay out steps to follow when organizing your kitchen. The course instructors will also share an old YouTube video on how they declutter their kitchen. You will see and know the solutions on how to make the most out of your kitchen space. We will also discuss steps to make an old kitchen functional by adding a few things.
Furthermore, you will learn how to plan your meals for a week. The course instructors will also take you on a tour of a grocery store and a farmer's market to show you the kinds of foods they buy or source for a week. They will share with you a few things they do when they go to the grocery store and farmer's market. Then, you will study some things that need to be done after grocery shopping. We will explain ways of storing, preserving, and processing your foodstuffs. Also, precooking foodstuffs like grains, quinoa and lentils, and storing these foods will be covered. The instructors will illustrate how to soak and cook foods that require more time to cook. Lastly, we will show you how to prepare and refrigerate fruits to last for weeks. We will also cover the disposal processes or methods for your unwanted food items based on acceptable norms in your community. By the end of this course, you will have an open mind to planning a healthy meal for yourself, family and friends. Register today and enjoy learning how to plan for any diet.
Start Course Now