This free online course will teach you how to clean and organize the contents of your refrigerator properly. You will learn how to make a chemical-free cleaning agent, the importance of adding labels to items, and various methods for storing, organizing and extending the shelf life of fruits and vegetables. You will be able to impress your family and friends with a spotless and well-organized refrigerator. Start this course today.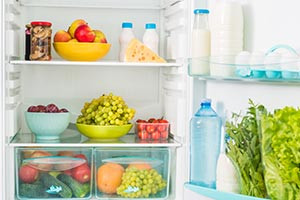 Duration

1.5-3 Hours

Accreditation

CPD
Description
The kitchen is the most important part of the house, and a clean fridge is a testament to a hygienic kitchen. It is critical to deep clean your refrigerator regularly because it stores various groceries, fish, meat, and dairy throughout the year. A clean fridge keeps your food not only fresh but also keeps germs and food-borne illnesses at bay. A clean fridge contributes to fresh food and a happy environment, which inspires people to cook the foods they enjoy. This course will teach you how to deep clean your refrigerator and organize and maintain its contents properly.
You will also learn how to make a chemical-free cleaning agent using simple household items. One can use simple ingredients like vinegar, soap water, and baking soda to remove stains from sauces and syrups like maple syrup. Some believe that cleaning the fridge only from the inside is a good practice, whereas cleaning the fridge internally and externally is a good practice because it helps you organize the souvenirs and other items that people like to keep on their fridges.
Deep cleaning the doors, shelves, and storage boxes makes it easier to identify which items can be stored longer. You will better know which items must be used first and which you must discard. Following a thorough cleaning, the arrangement of items in the fridge is an essential factor influencing how well your fridge is kept. To keep food fresh and nutritious, different food items require different storage methods. We will discuss various ways of organizing and storing vegetables, fruits, and dairy products. You'll discover how to keep your fridge tidy and ready to reload when you go grocery shopping or have leftovers. This course is simple yet beneficial and contains lots of helpful ideas. Do not hesitate. Enrol now.
Start Course Now