Do you work in sales and need to keep track of potential customers? Or customer service staff who need to understand the history of a customer's dealings with the company? Or maybe a manager who want to view reports to see how many new customers have signed up? If so, this course will help you build a long-lasting and productive relationship with clients to your mutual satisfaction using Zoho customer relationship management (CRM).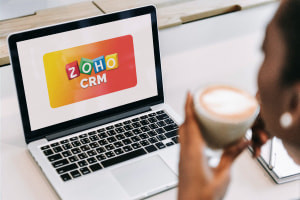 Duration

1.5-3 Hours

Accreditation

CPD
Description
Customer relationship management (CRM) is the mix of practices, methodologies and technologies that organizations use to oversee and analyze client communications and data throughout the relationship with the client. The purpose is to develop client support and relationships and assist in client retention and drive sales growth. This course aims to illustrate the fundamental principles of Zoho CRM. It starts by going over the fundamentals of Zoho CRM. You will comprehend the significance of software in meeting the needs of companies by allowing individuals to interact with customers across multiple channels in real-time. Further, we will also explain the relevance and the methods of navigating the Zoho customer relationship management.
The following section demonstrates how to build a Zoho customer relationship management for a client. You will learn how to create a mind map and set up modules for a customer using the example of Vicious vegans. The feedback from the client is of inestimable importance, and you will thus learn how to add a logo and rename system fields in Zoho CRM. Following that, we will walk through some of the fundamental and advanced aspects of CRM customization. You will discover how to add the business hours and holidays settings here in the company detail section. Also, creating a custom view, setting up stage probability mapping and mapping fields from leads to accounts in Zoho CRM is explained. You will also learn how to prevent users from exporting contacts out of the CRM.
Finally, you will comprehend how to customise layouts in Zoho CRM and what layout rules you need to follow. Then we'll showcase Zoho CRM automated processes. You will study fundamental workflows, time-based processes, custom blueprint features and webhooks. In this course, you will explore how and when to use webhooks in Zoho CRM. Master the skill of combining sales, advertising, and customer management activities into a single platform and optimise your approach, strategy, and personnel.
Start Course Now