Building Customer Relationships in Management
In this free course, learn how a business can build a strong bond with its customers in management.
Business
Free Course
For a business to flourish, it must have a solid relationship with its customers. Whether the company is local or international, the business must understand its customers and deliver services accordingly, thereby increasing its profit margin. This short course on building customer relationships in management will enlighten you on how customer data, loyalty, and co-option are instrumental in developing a flourishing business.
Take this certificate on your own.
Start now and learn at your own pace.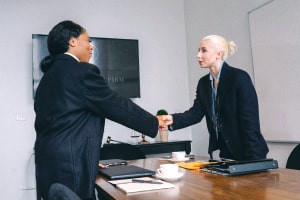 Description
Many business owners have thought that building a solid relationship with customers is about delivering services or products at low prices. However, this is not necessarily the case. Building a solid relationship with customers is about providing exemplary service, attracting more customers, and retaining them. All these can be achieved using the concepts of customer relationship management. Have you ever thought of why famous companies such as Google perform surveys on their users? It is all about getting insights into what their users want to tailor their services to their customers. This course begins by explaining the impact of data in managing customer relationships. You will be shown an example of how customers' data has helped the Swiggy Company to be more profitable and also seal more lucrative deals. You will learn how customers' loyalty is critical to the progress of a business. In addition, you will discover the bonding factors that make consumers stick with a company. You will also realise that the lack of these bonding factors can make customers switch from one business to another.
Next, you will be exposed to how a business can build a good relationship with its customers through customer retention programs and customer retention techniques. The course presents actual case data from a telecom company's customers. The case data is analysed and used to determine why customers switched from one telecom company to another. Co-option strategies such as customers serving as a source of competence to a business give businesses a competitive advantage over their competitors. You will discover how a business's active dialogue with its customer can nurture the business's development. Also, you will learn how co-creation and targeting personalised experiences for each customer can be critical to the business's progress. Did you know that most successful companies do shape customer expectations? Bill Gate's book explains the future of technology and how the digital world could evolve. This guideline gives an idea of what to expect and sets the pace for successfully delivering such products or services. Lastly, you will learn how to decide when customers can become competitors to a business and how to handle these situations.
This course on building customer relationships in management gives you a quick view of how a business can create a loyal and solid customer base. If you are a business owner, a potential customer relationship management expert, or want to refresh your knowledge of how solid customer relationships are built, this course will hone your skills. It presents the rudiments of how a business can build strong bonds with its customers. You will work through examples, demonstrating how various customer relationship strategies have helped improve businesses. This course is simple and straightforward and will give a brief guide on how a corporation can successfully build a good customer relationship foundation. Why are you waiting? Begin this course and start your journey on becoming a renowned expert in taking a business to the next level of success, using customer relationship management concepts!
Start Course Now