Human Resources: Discipline and Termination
Learn how to create a successful office team and handle employee terminations with this free online certificate course.
Publisher:

NuYew
This free online course in team roles and termination teaches you how to avoid high employee turnover. Learn how to create a successful office team using Belbin's team roles and other training models. This course also provides sample policies to help describe disciplinary issues and grievances. After completing this course, employees and employers alike will understand the procedures and policies associated with being part of the workforce.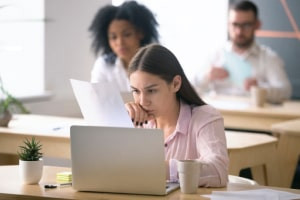 Duration

1.5-3 Hours

Accreditation

CPD
Description
What are the reasons for high employee turnover and what steps can be taken to combat it? This online HR certificate course looks at retention, disciplinary steps and termination, as well as the importance of team communication. The material introduces British academic John Adair's action-centred leadership model that can be adapted for your team to achieve your desired goal. It also outlines the type of role you could assign to each member of your team using the classification spelt out in the Belbin method, which helps you determine the types of people you work best with and those that you will clash with in a teamwork situation. Exercises will help you better understand these roles and how to use them in your own workplace. How to prepare for and conduct team meetings will also be covered, including focusing on tasks and people, certain ground rules and even feedback once the meeting finishes.
You will then be introduced to the training methods to help develop a rapport with your co-workers. Following easy-to-remember acronyms, learn about GROW (goal, reality, options and will) and CIGAR. Master the difference between types of questions such as 'open' and 'closed' questions. Concerning training, you will learn about your return on investment or ROI when creating GROW and CIGAR processes within your team. Your attention is then turned to a common problem in the workplace: disciplinary issues. To combat problems that arise if a situation is not handled appropriately, you will master how to handle these incidents professionally. To help reinforce these lessons, sample policies are provided. One action that employees could take when dealing with grievances in the workplace is whistleblowing. This course illustrates who can qualify as a whistleblower and the types of information that they could disclose and to whom in certain circumstances.
Bullying and harassment are also covered. The material details what could happen if these troubling actions become a serious issue, eventually leading to an employment tribunal. Wrap up by studying the various forms of employee dismissal, whether voluntary or not. The issue of redundancy is introduced and discussed at great length, including the legality in the UK behind this type of termination and the ways employers can mitigate any negative repercussions. Involuntary terminations are also covered. In the case of gross misconduct, types of harassment are identified and the consequences of attacking protected characterizations are enforced. This free course covers serious aspects of human resources management and is vital for those studying HR or those needing to refresh their existing knowledge.
Start Course Now