Human Resources: Employee Management and Training
Learn about the policies and procedures of employee management with this free online course.
Publisher:

NuYew
This free online course in employee management teaches you about the recruitment process from the point of view of the human resources department. You will learn about producing and maintaining personnel records of employees. The course will also explain the possible risks in the workplace and the legal parameters of your pay. After completing this course employees and employers alike will understand the procedures and policies of HR.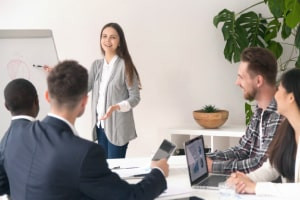 Duration

1.5-3 Hours

Accreditation

CPD
Description
This employee management course will begin by delving into the recruitment process from the human resources department's point of view. You will be introduced to some of the common competencies required for an open role after completing a job analysis. This course explains what should be included in an application form and what could be seen as discriminatory to potential applicants. The importance of equality and diversity in this entire process will be examined, too. You will learn what questions can and cannot be asked in an interview as some questions can discriminate against certain parties, as well as the types of interviews you could experience. While learning about interviews you will be introduced to the STAR technique used by interviewers. Following that, you will learn how to successfully welcome a new employee to the team and keep them on the team. Possible financial and legal issues that could arise from an unsuccessful onboarding process are discussed, as well as techniques to avoid these failures. The course also details what can be included in a contract of employment and when this document should be presented to an employee.
This course will introduce you to the importance of properly producing and maintaining personnel records of employees. This includes paper-based and self-service systems. While considering paper-based record keeping you will learn about the types of documents you should keep, the best places to keep these documents and how to properly dispose of these files. In terms of self-service systems, the many benefits in comparison to paper-based keeping will be covered, as well as the differences between employee and management level self-service. You will learn the aspects that all records systems should share, no matter what. You will be introduced to the legal requirements that all workplaces must adhere to when handling personnel records. This could include misconduct records so, keeping your employee records accurate will be in your best interest. Apart from keeping records, this course will discuss how to correctly delete or achieve personnel records, this includes what types of records should never be deleted and how to protect those specific forms relating to your employment. Another topic that the course covers includes managing your personal records outside of the office.
You will learn what actions are considered work actions and which are considered rest breaks. This will include specific time breaks that you should take in consideration of your age and whether you are working at night or not. This course also covers your holiday entitlement as an employee. Risk assessments and how to avoid those risks will be introduced to you. You will review sample policies that will help enforce the importance of avoiding risks in the workplace. This course covers what you should be paid and you will be taught about the National Minimum Wage and those exempt from the NMW. You will also learn what you can put away into your pension. For those of you interested in a career in the human resources department this course provides the policies and procedures you will need to be successful in the recruitment process and employee management. Learners entering the workplace in other departments can also use this information to succeed in onboarding and keeping up to date with personnel records. So, why wait? Start this course today and learn about managing employees.
Start Course Now