Human Resource Systems and Processes
Explore how human resource processes and systems can improve productivity and profitability in this free online course.
Publisher:

Rajiv Misra
This free online human resource certification will introduce you to human resource processes and systems, human resource (HR) policies, organizational structures, and grades and band structure for making your company competitive. This HR training delves into the enabling HR principles that everyone in human resources management can apply to the HR function in their organization to improve employee performance, value propositions, and recruitment.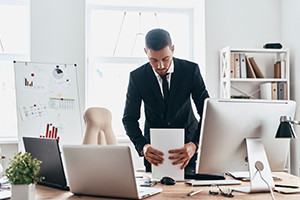 Duration

3-4 Hours

Accreditation

CPD
Description
An organizational structure defines how activities such as task allocation, coordination, and supervision are directed toward the achievement of organizational objectives. A band or grade is a method to decide the seniority and expectation for a specific role. This free online HR course will introduce you to the organization structure, bands, and grades structure and how to set them up for your company. Discover the various signs which tell you that your company is in need of better human resource systems and processes and the seven essential human resource systems and processes that you must have in your company. Organizational structure is the next topic and you will cover what a good organizational structure looks like, why it's important, and how to implement one. There are 12 essential human resource policies that are required by any organization in India and these are discussed in detail along with where to download them, ways in which they're able to be modified and the bands and grades structure for a company.
The next theme covers the employee value proposition and all you need to know about it. You will learn why it is critical in retaining top performers, how to create one for your organization, and how it attracts new external talent. This sets a good foundation in this HR certification to learn about recruitment, where the content covers how to use role outcomes to decide the qualification, experience, and competencies required to succeed in the role, the two types of evidence during an assessment, how to create a job description, and recruitment channels such as social and digital media, job portals, among others. Recruitment metrics, role-specific assessment criteria, assessment tools such as competency-based interviews and role-plays, first contact post-selection, and onboarding conclude the recruitment section of this HR course.
Effective human resource management involves much more than just recruiting new talent. Human resource professionals must be prepared to handle a variety of processes including onboarding, training, compensation and benefits, employee relations, and performance evaluation. As someone in human resource management, you need to recognize and understand the key processes of human resource management, and how these processes contribute to employee satisfaction and business growth. In this free online HR course, you will explore the critical human resource processes and gain insight into how those processes might be improved for the benefit of your team, employees, and the organization. This course is suitable for owners of small and medium enterprises, professionals in human resources, and anyone hoping to expand their technical knowledge in the HR field.
Start Course Now