Create Profitable Sales Funnels with Ease
This free online sales course will teach you how to quickly and easily create profitable, implementable sales funnels.
Publisher:

Juan Galvan
A sales funnel is a consumer-focused marketing design that enables you to build confidence, trustworthiness, and rapport with your potential customers and this free online course delves into this technique by analyzing a consumer journey for a good or service. This marketing tactic is practised by prosperous businesses and entrepreneurs alike to obtain and retain customers, and increase business profitability.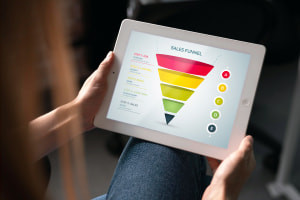 Duration

1.5-3 Hours

Accreditation

CPD
Description
If you want an easy-to-understand sales certification then you have come to the right place. This free online course will teach you how the sales funnel works, its benefits, and how it can lead to a company's profitability. Sales funnels are used to determine the movement of a customer's process from initial product awareness until a purchase is made and helps you know what possible customers are thinking and doing at each step of the purchasing journey. These insights enable you to invest or reinvest in suitable marketing projects and channels, devise several related messages during each stage and convert more possibilities/prospects into paying customers.
This sales training program explains why businesses need sales funnels, the different phases and stages of sales funnels, and how each works to convert a potential customer into a paying one. You will learn how 'market sophistication' is beneficial to the success of the sales funnels created and the different channels available to create a sales funnel - from doing it yourself and buying already 'done' funnels to hiring an expert to build one from scratch. You will see how copywriting is advantageous in the success of your sales funnels and examine the various sales funnels that are available. Even excellent prospects can flow out of the sales funnel along the process if they are not engaged enough. You will learn the best ways to counteract that loss, which is to have a vivid notion of the levels in your sales process and assist in making those steps occur.
Digital marketing is booming, and it only keeps growing every day. We have all come in contact with sales funnels at some point in our lives and once you are online, you will most likely come in contact with a sales funnel. There are random moments where one is on Facebook, a favourite blog, or some digital site, and you will see a pop-up of a book, an exercise program or a nutrition plan. Most require that you enter your email for more details for these services. These are examples of sales funnels. At some point, you click on one or buy a product without genuinely knowing the thought processes and work that goes on behind the scenes. Do these sales techniques fascinate you? Are you interested in marketing or increasing the profitability of your business and want a sales certification? Enrolling in this sales course will take you a mere three hours to complete and can broaden your knowledge on the sales process in order to create a compelling sales funnel and turn prospects into customers in no time.
Start Course Now