Human Talent Management
This free online management course shows you how to acquire and retain qualified personnel who can meet your needs.
Publisher:

NPTEL
This free online course explains how talent management can find people with high professional potential and maximize it. We show you how it fits into the human resources (HR) model and is driven by effective leadership. The course explores the differences between acquiring and managing talent and human resources to help you gain the ability to find good people and bring out their best in the workplace.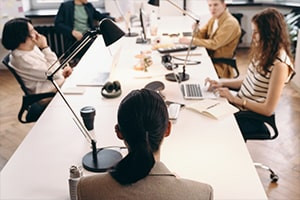 Duration

1.5-3 Hours

Accreditation

CPD
Description
Do you want the best people working for you? This course highlights the importance of managing ability and performance as you master the process of finding and developing new employees for your company or organization. Talent management focuses on highlighting those people with the potential to excel in their job. We begin by identifying the different types of employees and demonstrating how you can usefully categorize your colleagues. Managers need to develop workers with exceptional talents, skills and attitudes to maximize team performance and this course teaches you how.
In the second part of the course, we demonstrate how to correctly identify talent. This includes attention to the role that skill-based compensation can play in motivating people. We examine different roles played by managers and various leadership models, including Fiedler's Contingency and the Hersey-Blanchard approach, to help you develop your own people- and production-oriented leadership style. We show you how roles, capabilities and people make up the 'talent DNA' as management combines all three. We then explain how to improve decision-making skills to increase performance and how to move beyond strategic HR to talent management - thus making your employees more efficient through capacity development.
Finally, we study the nurturing of future leaders through the creation of a healthy organizational culture. Many of the world's large companies carry out this practice through the acquisition and management of human talent. We demonstrate how to do this through financial strategies, marketing endeavours, HR programmes, information technology measures and operational plans. Talent management has become even more important due to the growing recognition that it helps drive business performance. Do you want to know how to boost output by creating a work climate where trust, motivation and respect are common attitudes? We show you that good talent management is not fragmented but consists of comprehensive development programmes that allow you to identify the potential within your employees. This course is aimed at those working in HR, managers and anyone who wants to bring out the best in their colleagues. Human capital is a crucial resource so learn how to make the most out of the people around you with this free online management course.
Start Course Now