Stress Management - Dealing with Personal Stress - Revised
Learn some great techniques for dealing with personal stress and anxiety with this free online mental health course.
Publisher:

NPTEL
This free online course in stress management focuses on dealing with personal stress along with teaching you great techniques for reacting to stressful situations. Stress can be caused by a wide range of triggers, which may be physical, mental, and emotional, and sourced from your environment, your body, and your thoughts. This course is designed to help you keep your stress levels manageable and make your day a little bit easier.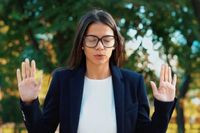 Duration

Hours

Accreditation

CPD
Description
This course will first teach you how to assess your stress level. You will learn what stress mapping is, how self-esteem can be improved, and how to assess your own personality type. You will study different personality scales and distinguish between type A and type B personality reactions. The course will then discuss the idiosyncratic meaning of stressors and why each individual has a different way of experiencing a stressor. It will also cover the internal and external locus of control.
Next, the course will explain the relationship between thoughts, mood, and behaviour. You will learn how thoughts work in anxiety and how behaviours are related to anxious thoughts. The course will then teach you how to manage anxious thoughts and discuss what assertiveness is. You will learn that both stress and anxiety disorders have many symptoms in common but stress tends to be managed through lifestyle changes, whereas anxiety disorders require both lifestyle changes and medical therapies.
People dealing with stress may suffer from headaches, high blood pressure, chest pain, heart palpitations, skin rashes, and loss of sleep. This can seriously impact quality of life, and can sometimes seem impossible to fix. But some things can help. This free online stress management course will teach you how you, or a loved one, can address stress and overcome stressors a little more easily. Start gaining this ability, today.
Start Course Now