Stress Management - Techniques for Coping with Stress
Learn coping strategies and exercises that can be used as part of stress management with this free online course.
Publisher:

NPTEL
This free online Stress Management course will teach you the techniques for coping with stress. You will look into relaxation and cognitive techniques such as maladaptive, problem-focused, and emotion-focused. You will also study the link between exercise and stress as well as the different useful exercises and their long-term effects. You will also learn to identify stressors in your life using a DIY strategy program.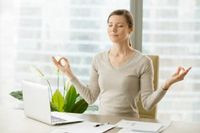 Duration

1.5-3 Hours

Accreditation

CPD
Description
This course begins by teaching you the different ways of coping with stress. You will learn how to develop positive coping strategies and understand why they differ from one individual to the next. You will study autogenic training which is a technique that teaches your body to respond to your verbal commands and learn the difference between adaptive and maladaptive coping strategies as well as problem-focused and emotion-focused coping strategies. In addition, this course will also teach you why images are used in relaxation techniques.

You will then study exercise and DIY strategies helpful in coping with stress. You will learn that when doing exercise movements, they should be rhythmic rather than uncoordinated to avoid muscle strain. This course will also teach you the importance of identifying your stressors and charting them down when you are doing a DIY program. It will explain the role of exercise in stress release, the relationship between the brain and exercise, the long-term effects of exercise, and the difference between aerobic and anaerobic exercises.

Learn techniques for dealing with personal stress with this free online course from Alison. Exercise helps increase heart and respiratory rates, blood fats, and muscle tension. This is why it is a very important activity to help you cope with stress. Upon the completion of this course, you will learn useful exercises that have long-term positive effects on your health. Check out the course and learn how to live a happier and well-balanced life now!
Start Course Now