Stress Management in the Workplace
In this free online course, learn some effective strategies to handle stress in the workplace.
Publisher:

CourseFlix
This free online course, stress management in the workplace, teaches you what stress is and the factors that contribute to workplace stress. We will discuss what is meant by the term "stress management", and how it should be implemented in your organization to reduce stress-related problems in employees. You will also study high impact conversations and how to build your confidence to minimize stress and improve your job satisfaction.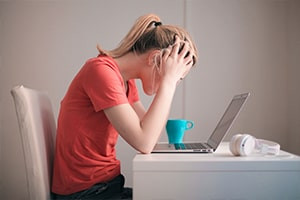 Duration

3-4 Hours

Accreditation

CPD
Description
This free online course, stress management in the workplace, will help you learn how to handle stress in the workplace in an effective way. We will discuss stress management in detail, and whose responsibility it is to ensure it is implemented in your organization to reduce employees' risk of work-related stress problems. We will take a closer look at how workplace stress is manifested. Specifically, we will look at the signs and symptoms of stress, such as physical and mental signs, typically suffered by those in the workplace. Do you know how to spot potential burnout from overworking? This course will show you what burnout is, how to avoid it and take a look at the signs and symptoms that might mean you're overdoing it. We will then see how it should be handled by an individual's organization and how it can be prevented in the first place by the management team. The course will then follow on to look at how you can maintain a realistic perception that will minimize your risk of burnout and will also enhance your job satisfaction.

High impact conversations are a big part of stress levels at work and if you're aren't properly equipped to take on these kinds of tasks, you can waste a lot of time worrying about them. This course will help you learn how to approach high-impact conversations with a clear head and realistic attitude that will help you to avoid unnecessary stress. We will also look at the factors influencing how any particular individual experiences stress. Understanding these factors will help you to feel a greater degree of understanding and sympathy towards those around you who may be stressed, as well as enhance your own self-awareness. You will get to know what you can do to convey an impression of confidence and how body language plays an important role in interpersonal dynamics. In addition to this, you will learn how handling objections can help you reduce stress. We will discuss how you should react to objections and obstructive comments that can trigger a rise in your stress level. Do you know the difference between constructive criticism and negative criticism? Learn how to listen to feedback and analyse it without feeling under fire from management. This course also covers the basics of precise questioning, which help you uncover exactly what you need to know, with minimum fuss.

Much stress is caused by simple misunderstandings and poor quality relationships. The course will describe why focusing on listening is conducive to stress reduction and can improve your relationships with others. You will also learn how to ask for feedback - and how to get the best from it. This course will help you learn practical and positive techniques, which you can use to process and eliminate feelings of stress. It is easy to fall into the habit of handling stress in unhealthy ways that exert long-term effects on our bodies and minds. You will study how to cope with your negative emotions in healthier ways. We'll also take a closer look at the environmental factors that have to be taken into consideration when implementing stress management strategies. By taking this course, you will learn effective and practical techniques to reduce stress in your workplace, which ultimately improves your job satisfaction and helps to build your confidence.
Start Course Now