Stress Management in the Workplace
Acquire effective strategies to handle anxiety in the workplace with this free online stress management course.
Publisher:

CourseFlix
This free online course defines 'stress' and explores the factors that feed it in the workplace. We then investigate 'stress management' and explain how it can reduce anxiety-related problems. We also cover 'high-impact conversations' and show you how to build your confidence to minimize stress and improve your overall job satisfaction. This course suits managers or anyone looking to improve both performance and mental health.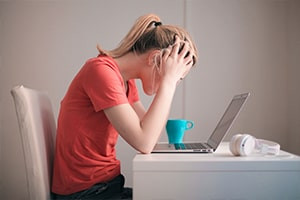 Duration

3-4 Hours

Accreditation

CPD
Description
Work-related stress takes a toll on employee morale and productivity and this course discusses stress management in detail. We examine the source of anxiety and take a close look at how it manifests, including physical and mental symptoms. Do you know how to spot potential burnout from overworking? This course defines 'burnout' and unpacks how to recognize and avoid it before providing mechanisms to enhance job satisfaction for yourself and others.
'High-impact conversations' are discussions that get people to commit to taking a certain action (like meeting a target or working to a deadline) and are a significant cause of stress at work. If you aren't properly equipped to take on these demanding tasks, you can waste a lot of time worrying about them. This course demonstrates how to approach high-impact conversations with a clear head and realistic attitude that reduces unnecessary worry. We look at the factors influencing how any particular individual experiences anxiety because doing so can help you to feel a greater degree of empathy towards stressed people around you and may even enhance your own self-awareness. We show you how to convey an impression of confidence and how body language plays an important role in interpersonal dynamics. In addition, this course teaches you how handling objections properly can actually help you reduce your own stress levels. We discuss how you should react to obstructive comments that can trigger conflict. Do you know the difference between positive or constructive criticism and negative or destructive criticism? We demonstrate how to listen to feedback and analyze it without feeling under fire and cover the basics of precise questioning that can help you to uncover exactly what you need to know with minimum fuss.
Much workplace unhappiness is caused by simple misunderstandings and poor quality relationships. We describe why focusing on listening is conducive to stress reduction and can improve your interactions with others. We go through the steps involved in asking for feedback and unpack how to get the most from it. This course offers practical and positive stress-reduction techniques as it's easy to fall into the habit of handling anxiety in unhealthy ways that inflict long-term harm on our bodies and minds. We explain how to cope with your negative emotions in healthier ways and take a close look at the relevant environmental factors. This course can improve your communication skills, change your perceptions and sharply reduce work-related stress, both for you or for those working around you.
Start Course Now