Principles of Marketing
This free online diploma course explains how to conduct market research to sell yourself and build customer loyalty.
Publisher:

Saylor Academy
This free online diploma takes you through common buying trends in business-to-business and business-to-customer markets. We show you how to gather market intelligence using market information systems so you can manage and leverage customer communities to build up customer satisfaction and hence loyalty. This comprehensive course teaches you how to get ahead by selling ideas, products or even yourself.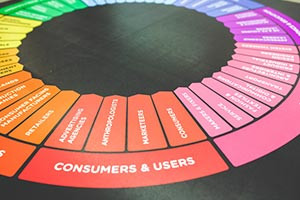 Duration

6-10 Hours

Accreditation

CPD
Description
This free online diploma course is meticulously designed to provide you with the knowledge and valuable skills you need to succeed in the fields of marketing, consumer behaviour, strategic planning and marketing research. We begin with analysis of business-to-business (B2B) markets and examine their characteristics and buying trends as we compare them to business-to-customer (B2C) counterparts. We navigate the stages of the buying process for B2B markets. The course then delves into marketing channels and investigates the role of channel partners. There is often conflict between marketing channels so this course shows you how to defuse such tension and ensure cooperation. We break down the complexities of consumer purchasing behaviour to demonstrate the importance of seemingly random factors like customers' personality traits or store design. This free online diploma course explores the social, psychological, situational and economic factors that can influence purchasing behaviour. 
We go deeper into the connections between market research, strategic planning and customer satisfaction. We provide tools to allow for cogent strategic planning, including a 'strengths, weaknesses, opportunities and threats' (SWOT) situational analysis. We unpack strategic portfolio planning, citing the Boston Consulting Group's growth-share matrix and General Electric's approach. People trying to sell products, business ideas or themselves are typically asked, "Why should I buy from or hire you?" The answer to such questions can be found in a 'value proposition' and we explain how. This course then moves on to market information systems as you master internally generated reports and the use of other resources like search engine monitoring and analytics software. Designing questionnaires for market research may not seem like serious business but it can make or break a campaign. This course lays out the steps of the market research process, from problem definition to the presentation of findings. We then cover customer satisfaction, communities, loyalty programs and the laws governing the relevant corporate activities. 
Identifying your target customers can be as difficult as selling goods and services and neither is as challenging as building customer loyalty - all of which must occur for a conventional business to succeed. Marketing is a lot more than just raising awareness of a product or service: it's a combination of strategic planning, the use of marketing channels and understanding customer and business buying behaviours by conducting adequate market research to satisfy your customers and earn their loyalty. The course covers all of these important topics and takes you through each step of the marketing process. It suits anyone working in commerce, be they a small business owner or someone eyeing the management track at a large firm, or in communications as these skills can be used to sell products, services or ideas.
Start Course Now