Operations and Supply Management
Learn about the operations management principles that can help you design the products to match your customers' needs.
Publisher:

Saylor Academy
This free online Diploma course in Operations and Supply Management presents you with all you need to manage your manufacturing or service operations to satisfy your customers' needs. This course presents you with a mix of ingredients needed to run your business that will make your customers coming for more. Operations management is no doubt a wide field of study but this course presents you with a very simplified, quality version of it.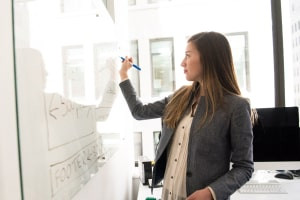 Duration

6-10 Hours

Accreditation

CPD
Description
Every day, people all over the world distinguish between product preferences. Some will prefer Toyota automobiles while some others will prefer Volkswagen; some Gucci while some others, Dolce and Gabana. A customer's preference for a product is closely tied to the ability of the producing organization to meet his/her preference. Now, if more customers prefer one product to the other, it means the organization that produces the more preferred product gains a larger market share than the organization with the less preferred product. Making customers to have greater preference for your product doesn't just happen by chance, it is as a result of some very important 'Operations Management' techniques. In this course, you will learn how to manage the operations of your organization; from purchasing of raw materials to processing to distribution and sales. This course will help you make your product (or service) the 'preferred one'. In a very competitive business environment such as we have in this 21st century, isn't it extremely important to manage production process to ensure there are no wastages? Do you know that an organization that is able to reduce wastes saves more money? Do you know how many wastes organizations dish out even without knowing? This course will help you answer these questions and guide you on how these wastes can be minimized/eradicated. Remember your aim is to make your product the most preferred. But how do you even measure customer's preference? This course will help you learn how to target your customer base by using the various demand forecasting methods to know who and who will be interested in your product and when.

This course begins by introducing you to operations management and the various functions operations management play in an organization. It will take you through the main differences between manufacturing and service operations and how both operations differ in areas such as Supply Chain Management, Quality Control and Elimination of wastes. As you progress, you will learn how operations management can help in the creation of ideas and the design of products and services that will be useful to your targeted market of consumers. This course exposes the learner to the person of the operations manager and the various, strenuous roles the operations manager has to play in the organization. It will further expose you to the concept of Total Quality Management (TQM) and will teach you about the practices of Quality Inspections and Standards which can help an organization ensure that poor quality or defective products don't leave the premises of the organization to the market. This course discusses the several methods of forecasting demand and explains how demand can be forecasted to attain high accuracy. Since forecasts are educated guesses, it is very important to get information from reliable sources which will help gear the forecasts towards high accuracy. This course helps to explain the various sources of information that will be helpful when making demand forecasts. The course goes on to explain why forecasts is needed to plan capacity and facility layout and this is to ensure that the production process is just sufficient enough to match the market demand of the product being produced so that there are no wastages.

This free online Diploma course in Operations Management is designed to equip you with the needed knowledge to steer a product manufacturing or service delivery organization to success. Whether you are a sole proprietor or you are working in a company, this course is useful to you because in the end, every business man wants his product or service to be accepted by the intended market. The course is designed to help you understand how to manage your supply chain and plan capacity. By learning the important role of Supply Chain Management and capacity planning, you will be able to eliminate waste in your organization and at the same time, match the demand of your customers. This course is designed to help you gain all the knowledge you will need to excel because once you get your demand forecasts right and you are able to plan/manage your firm's capacity, you will eliminate wastes and this will reduce shortages. This course is also very useful in the day-to-day living as we all make decisions in our homes on what to purchase and in what quantity, this course will help you make the right decision. So what are you waiting for? Jump in and learn the skills that will help you steer your organization to success.
Start Course Now