Diploma in Operations and Supply Management
See how operations management can help you design products that meet your customers' needs with this free online course.
Publisher:

Saylor Academy
This free online management course in operations and supply management presents you with all you need to optimize your manufacturing or service operations to satisfy your customers' demands. This course provides a mix of ingredients needed to run a successful business. Operations management is a wide field of study but this course breaks it down into digestible steps to help you deliver services and products profitably.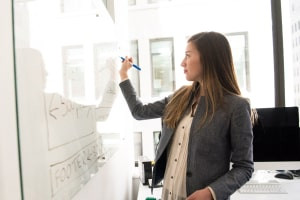 Duration

6-10 Hours

Accreditation

CPD
Description
Every day, people all over the world make product choices. Some prefer Toyota automobiles while others favour Volkswagen, some select Gucci while others choose Dolce and Gabbana. A customer's preference for a product is usually defined by the ability of the producing organization to meet their desires. If more customers prefer one product to the other, it means the organization that makes it gains a larger market share than its rivals. This doesn't just happen by chance: it is a result of the application of some very important 'operations management' techniques. This course explains how to manage the operations of your organization, from purchasing of raw materials to processing to distribution and sales. We can help you make your product (or service) your target market's favourite while we teach you how to minimize waste. How do we even measure customers' preference? This course unpacks how to target your customer base by employing various demand-forecasting methods to ascertain who will be interested in your product and when.
We begin by introducing you to operations management and its functions. We compare manufacturing and service operations and outline how they differ in terms of supply chain management, quality control and elimination of waste. Operations management can also aid in the creation of ideas and the design of products and services that will appeal to your target market. This course explores the many functions of the operations manager and describes the concept of 'total quality management' (TQM). This brings us to the practices of quality inspections and standards, which can let you ensure that poor quality or defective products don't leave the premises. We take you through the available methods of forecasting demand to demonstrate how market reaction can be predicted with some accuracy. Since forecasts are educated guesses, it is very important to get information from reliable sources and we outline how to do so. This is necessary in order to plan capacity and facility layout and ensure that the production process eschews waste and suits the market demand.
Whether you work alone or in a company, this course is useful to you because everyone in business wants to make their product or service appealing. This course is designed to equip you with the knowledge needed to guide a product manufacturing or service delivery organization to success by managing your supply chain and planning capacity. This will help you satisfy your customers, as will accurate market predictions that enable you to manage your firm's resources and capacity to reduce waste and shortages. This course can help you improve your bottom line, boosting your contribution to your company and your career.
Start Course Now