Physical Fitness - How to Avoid Injuries and Train Safely
Learn how to train safely, and prevent and treat a range of injuries that can arise during fitness training.
Publisher:

MEDCoE
This free online course will teach you how to train your body safely, how to prevent and treat common types of training-related injuries, and the negative effects performance-enhancing substances have on your health. Fitness training is essential for your overall health, but done incorrectly it can quickly turn into its own kind of danger. Start this course today and make sure that you're exercising safely and efficiently improving your health.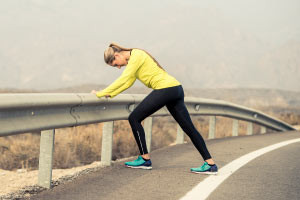 Duration

Hours

Accreditation

CPD
Description
Exposure to heat, cold, or some new environment can provoke physiological or biochemical changes that allow you to better tolerate the new environment. This course will discuss the effects training in hot and cold environments can have on the body. You will study the factors that hinder body cooling while in the heat as well as the factors that compromise the body's adaptation to the cold. You will also learn the effects that training at high altitude can have on the body.
Sudden, traumatic, or acute injuries to the musculoskeletal tissue quickly result in inflammation. This fitness course will discuss the characteristics of a musculoskeletal tissue injury and teach you the best practices in treating strains, sprains, muscle cramps, and fractures. You will study how anabolic steroids work, and how they alter metabolism and promote the development of muscle. The course will also cover the effects of performance-enhancing substances and the beneficial and adverse effects linked to them.
Elite athletes are always looking for ways to improve their performance and gain a competitive edge. Often there is a temptation to seek alternative ways of increasing their abilities. You will study the biochemical properties of Anabolic Steroids and explore their perceived benefits as well as their reported adverse physiological and psychological effects. You will learn about performance-enhancing substances taken by athletes, such as human growth hormone, clenbuterol, erythropoietin and amphetamines, and how these substances can damage the cardiovascular, hormonal and muscular systems of the individuals who take them. Start this course today and gain the knowledge and skills to train safely, avoid injury and greatly improve your physical fitness.
Start Course Now