The Foundations of Capoeira
Learn the foundations of Capoeira, get super-fit and expand your physical abilities in this free online course.
Publisher:

Alon Yudelevich
Capoeira is an influential martial art valued for self-defence, as a sport and for body fitness. This free online course will teach you the basic principles and skills necessary to learn this incredible art. In short lectures, you will learn the 'Ginga', the most fundamental Capoeira movement, from where all other movements begin. We'll also cover all basic capoeira kicks and defences in a clear step-by-step progression. Let's get started!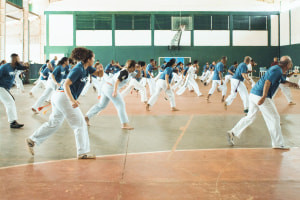 Duration

1.5-3 Hours

Accreditation

CPD
Description
Martial arts have been around for many centuries. They have been used for self-defence, fitness training, acrobatics, dance and general entertainment. One of the most potent martial arts is Capoeira, which originated from Brazil. It enhances bodily strength, balance and physical coordination and wellness. Traditionally, Capoeira training is conducted face-to-face, but you can learn this rare skill virtually thanks to Alison.com. In this free online course, you will learn the basic principles and moves in Capoeira through well-tailored step-by-step lessons that are easy to follow and practice. We have attached additional resources containing even further practical steps to master this beautiful art. The first lesson will introduce you to the Ginga, Capoeira's signature stance from which all other moves begin and end. Even though the pose will seem difficult at first, it will get easier with practice. We encourage all students to compound the lessons with practice sessions. After the Ginga, you will learn about Cocorinha and Meia Lua de Frente, the first defence and attack, respectively.
Next, we will introduce you to the Meia Lua de Compasso attack method and the Esquiva Baixa defence technique. As you will discover, each foundational defence style is linked to its associated attack method. After Esquiva Baixa, you will learn the Queixada kick and the back defence known as the Esquiva pra Tras. You will also study the rubber band effect and how to gather kinetic energy through proper body mechanics. Furthermore, you will discover the Armada kick and the related side defence – the Esquiva lateral. This will pave the way for the more advanced Capoeira kicks, beginning with Parafuso kicks. Here, we will show you the different variations of the Parafuso and the steps you should take to perform each variant of this great kick. The course will unveil the challenges of each variant to you, and we'll also demonstrate measures you should take to surmount the challenges and perfect the moves. The Amazonas kick, a single-handed handstand kick, will be presented to you before ushering in the Martelo de Chao attach method.
The thrilling Meia Lua Raiz will form the icing on the cake as it brings the training to a close in a truly breathtaking fashion. This course is intended for martial artists, dancers, movement culture enthusiasts, and fitness lovers. It is also helpful to those seeking an alternative physical exercise routine away from the regular training sessions. We are confident that you will find it exciting and uniquely fulfilling. Capoeira helps relax the mind, body and soul, enhancing general body wellness – similar to Yoga and meditation. So why wait? Enrol in this course today!
Start Course Now