Introduction to Alternative Dispute Resolution
Discover how Alternative Dispute Resolution processes can help two disputing parties settle conflicts effectively.
Publisher:

Advance Learning
With this free online Introduction to Alternative Dispute Resolution (ADR) course, you will learn how, as a flexible dispute resolution method, ADR gives conflicting parties the opportunity to work through issues with the help of a neutral third party. ADR is a body of dispute-resolution methods outside of the litigation process. You will learn that it is often faster, less expensive, and more private than litigation.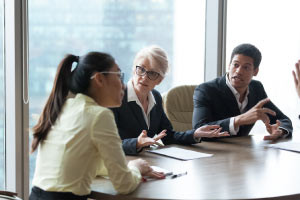 Duration

1.5-3 Hours

Accreditation

CPD
Description
This course will first introduce you to alternative dispute resolution (ADR). You will study the benefits of using ADR as a conflict resolution method and look into the ADR process. The course will discuss why ADR is one of the best conflict resolution methods available as well as teach you how to prepare for an ADR process. You will then learn what to expect from an ADR process including how confidentiality is maintained during the ADR sessions.

Next, you will study the common methods of dispute resolution including negotiation, mediation, and arbitration as well as the other types of dispute resolution such as ethics hotline, summary jury trial, mini-trial, ombudsman, private judging, open-door policy, and mediation-arbitration. The course will discuss the mandatory arbitration clauses that are common in contracts and how such clauses are enforceable against parties even if they wish to litigate their claims.

Negotiation is a skill often developed by people who are in charge of settling disputes or creating agreements. This Introduction to Alternative Dispute Resolution online course will teach you when to use different types of ADR methods including the benefits and drawbacks of each type. Check out the course today, and start learning the skills and knowledge that every effective ADR practitioner needs to possess.
Start Course Now