Negotiation and Conflict
Learn how to develop your negotiation, conflict resolution, and decision-making skills with this free online course.
Publisher:

Saylor Academy
In this free online Negotiation and Conflict course, you will learn how to make good business and personal decisions by utilizing many different decision-making tools. Some of what you will learn is how to identify and avoid the decision-making traps, how to approach and resolve conflicts in a team setting, communication techniques for dealing with different kinds of people to leave your team more cohesive and productive.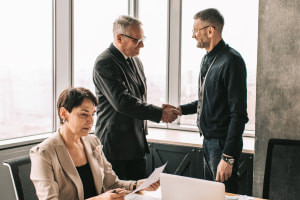 Duration

1.5-3 Hours

Accreditation

CPD
Description
Conflict is a part of life and business and knowing how to identify and address challenges can go a long way in maintaining good relationships, especially in the workplace. This management course starts by introducing you to the factors that negatively influence our decision-making and the potential dire impact they could have, including some practical examples. You will be taught how to avoid these decision-making traps and this primes the next topic, which is about negotiation. Knowing how to approach negotiation in order to achieve a mutually beneficial outcome is very important, and this applies to conflict as well. Conflict can tear apart people, groups, and organizations and the content will teach you how to define conflict, what its dangers are, how it can be healthy and also how good leaders  curb and manage team conflict.
Different people behave in different ways generally, but this applies particularly to how team members deal with conflict. Your learning delves deep into the styles through which group members engage in conflict, the three-style menus for approaching conflict, and communication methods you can leverage to avoid or resolve a conflict. This includes tips on how to express your feelings and thoughts clearly without coercing or judging others, other conflict management strategies and how an organization's policies and protocols affect engagement and conflict resolution. Managing emotions and acknowledging how they affect others concludes this section of the coursework. 
Evaluation and criticism is the next part of this leadership course and it outlines the critical strategies for giving and receiving evaluation and criticism. You will learn how to stay positive when receiving criticism, avoid responses that may spark unhealthy conflict, how to create a safe space for delivering evaluation and criticism, and some vital tools that will help you prevent a conflict from getting out of hand. This section also deals with the importance of encouraging your team to embrace all team members to foster a culture of inclusivity - no matter how different the members may be. Some other important leadership principles included in the course are how to regard conflict as an invitation to listen, explore and learn, how to develop a crisis communication plan, the major causes of conflicts in a work environment, and the positive and negative and outcomes conflict can have on a team. If you manage a team, are keen to refine your leadership skills or simply want to learn how to manage conflict better in your personal life, then this conflict management course is a great course to enrol in because it provides theory along with practical, easily-implementable solutions to a wide range of challenges.
Start Course Now