Mastering Influence and Negotiation
Learn how to have a positive influence on others and the ins/outs of effective negotiation in this free online course.
Publisher:

Ross Maynard
This free online course will teach you how to negotiate effectively and have a positive influence on those around you. You will learn about the different personality types, the various steps involved in a negotiation, the factors that lead to a successful negotiation, different negotiation scenarios and all of the possible outcomes of a negotiation. You will achieve unmatchable negotiation skills and learn to positively influence others.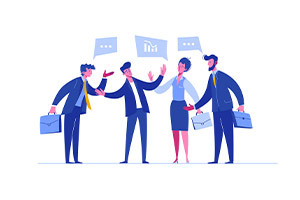 Duration

1.5-3 Hours

Accreditation

CPD
Description
As individuals, we meet a lot of people every day, and we subconsciously influence them, directly or indirectly. Depending on the type of interaction we have with the other person, this influence can be positive or negative. Negotiations, like influencing others, are also a part of our daily lives. We negotiate over things as simple as what to eat at a particular time to life-changing decisions like buying a house for yourself or deciding on an investment opportunity. The importance of both negotiation as well influencing others can not be overstated. Thus, influencing and negotiating are important aspects of our lives, both personally and professionally. As a result, it is critical that both influence and negotiation be undertaken in a positive manner. This course will focus on these two critical life skills and will teach you how to win in any situation where these skills are required.

Six basic components must come together in order to have a positive influence on someone. This course will thoroughly explain these critical components, as well as the various types of personalities and how each personality influences others. Influence is gained not only through speaking but also through nonverbal means such as active listening and a few other methods that will be discussed. A simple negotiation can result in four possible outcomes: Win-Win, Win-Lose, Lose-Win, and Lose-Lose, and the outcome is determined by a number of factors. These four outcomes, as well as the potential drivers of a successful negotiation, will be highlighted. Building a rapport is essential for maintaining good relationships in any association that involves negotiation. The following section will outline an effective method for developing a successful relationship with others. Once negotiation has been completed, a proper closure is required, and certain steps must be followed in order to close a negotiation properly. These steps will be explained in detail, in this section.

There can be multiple mediums for a negotiation to take place, whether it be in person or online. This course will finally go over a few things to keep in mind when dealing with a client online during a negotiation. Occasionally, a negotiation may become stalled for a variety of reasons, resulting in complicated situations. A few steps must be taken to avoid and resolve such complications. These measures for avoiding a deadlock in any negotiation scenario will be discussed. Specific issues in project negotiations, business contracts, job applications, and asking for a pay raise or promotion will be addressed. Influence and negotiation are critical parts of our lives, and since not everyone can do them well, they need to be learned. A positive influence is always preferable to a negative one, and a successful negotiation is the best that could happen in any given situation. This course is for anyone who wants to master the art of leaving an indelible positive impression on others and learn to negotiate their way out of almost any situation. Take advantage of this opportunity to obtain these valuable qualifications. Enrol now!
Start Course Now