Learning how to be more expressive and persuasive is possible by simply learning how to improve your communication skills and this free online communication skills training course can do just that. You will be taken through the steps required to rectify long-held errors that put up barriers between you and others. Almost every field requires effective communication so this course can boost your career and your private life.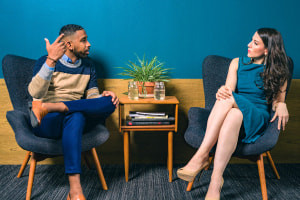 Duration

3-4 Hours

Accreditation

CPD
Description
We often build walls without realizing it by making mistakes with communication. Reflection can address those errors and this communication skills course is helpful for managers and professionals at all levels as it develops your communication skills and improves working relationships. These critical communication skills can also help fresh graduates looking to establish themselves and become more assertive. This training course provides the skills required to handle day-to-day situations in any organization with a flexible, authentic and self-confident approach and helps you build collaborative relationships based on professionalism, trust and mutual respect. We teach you how to compose clear and concise messages.
A good communicator requires a clear understanding of the change they want to see in others. This communication course covers key topics like the writing of emails, reports and business letters and how to conduct a business meeting and deliver compelling presentations. We demonstrate how to connect to people and build the kind of relationships that underpin effective leadership. This course offers a deeper awareness of non-verbal interaction, tone and active listening and their ability to change the entire meaning of what was said, contributing to one of the main sources of miscommunication.
This interactive communication course emphasizes self-reflection as we go through case scenarios to help you practise assertiveness and good listening to develop your interpersonal skills. Communication forms the bedrock of most professional environments and this course helps you to grow in your career by boosting confidence and helping you to develop the kind of relationships you need to succeed.
Start Course Now