Effective Communication in the Workplace
Learn effective communication skills and master the art of facilitating business meetings in this free online course.
Publisher:

Ross Maynard
This free online course communication skills training will tutor you on effective communication and the various ways to improve all-round business meeting outcomes. You will discover the principles behind effective communication, how to plan an effective meeting to achieve the stipulated goals, how to create an agenda including the various business facilitation tools, and the methods to communicate in any given scenario.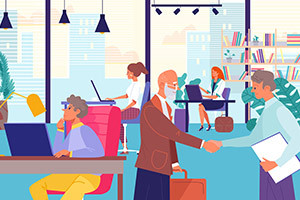 Duration

1.5-3 Hours

Accreditation

CPD
Description
Communication is an important part of every business. Effective communication can do wonders for a business, whereas a lack of communication or poor communication skills can result in the downfall of a well established business. Communication is not just limited to dealing with businesses outside the organization but also within the organization. Only when internal communication is effective will the company be able to communicate its core values and business propositions to others outside the company. Management meetings can be tedious and uninspiring at times, with managers often looking for reasons to skip them. A good manager understands performance and can present information in such a way that others can comprehend the issues and make sound decisions. A good manager is also able to see through the fog of numbers to make a clear point and assist others in making sound decisions. This  free online communications skills training will provide you with tools and structures to help you effectively plan and deliver your message, as well as facilitate group meetings to achieve a useful outcome.
Good communication just doesn't happen overnight. It takes time, practice, and adherence to certain principles to become an effective communicator. At the start of this communication skills course, you will learn about the principles of effective communication in order to lay a solid foundation for future development. Following that, you will discover that effective communication necessitates preparation and practice. Various methods for planning an effective communication will be demonstrated using examples and then you will discuss how to structure your message, how to engage your audience through various modes of communication, and how to create a call to action for any meeting. The next section of this communication skills development online course explores the different language patterns that can be used to convey your message to your audience. In any business meeting, facilitators play an important role and the content covers the skills necessary to be an effective facilitator and the guidelines of a well-structured meeting.
Every business meeting has a goal and that goal can be met with proper meeting planning. A well-planned agenda can aid in the execution of a productive meeting that achieves its objectives and you will discover the importance of having a meeting agenda as well as how to prepare a meeting agenda. Business meetings are now being held not only in person, but also online. The art of online meeting facilitation will also be discussed before finishing off with a list of various business facilitation tools including the ishikawa diagram, process mapping, and brainstorming. This course will equip you with the skills to effectively communicate in any given scenario, as well as teach you the art of becoming an excellent facilitator. Any professional working in business or someone just starting out in their career would benefit from knowing how to run a great meeting and enrolling in this advanced communication skills course will assist you in adding even more value to the workplace.
Start Course Now