Communication Fundamentals
Learn the skills and techniques required to communicate effectively and achieve your goals with this free online course.
Publisher:

TJ Walker
This free online communication fundamentals course will help you become a better communicator by teaching you how to deliver messages effectively to your audience. You will learn about the techniques you can use to express yourself verbally, motivate and convince your audience to achieve your goal. You will be shown how to effectively engage your audience with PowerPoint and how to use ethical cheat sheets to improve your presentation skills.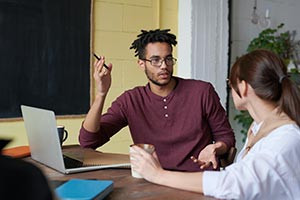 Duration

1.5-3 Hours

Accreditation

CPD
Description
The ability to communicate effectively is one of the essential skills to learn in life. Having good communication skills is vital in every ramification of life. This is because there is the need to always speak to someone either personally or professionally. Communication entails transferring information or expression of ideas, emotions or thoughts from one person to another. One can communicate verbally or non-verbally. This free online course focuses on verbal communication and begins by introducing you to the high-tech way of improving your communication skills. Listening is an essential component of the communication process. This course will help you understand why listening is important for a communicator and not just the audience. In addition to this, you will be taught the difference between direct and indirect communication and the various situations in which one can use them.
Have you ever been poorly treated by an organization, company or corporation and don't know how to communicate your frustration with them to make things right? This course will teach you exactly how you as an individual can express your dissatisfaction with corporations and get them to take action. You will also learn about the key steps involved in effective communication. Furthermore, you will be taught how to use stories as a tool to illustrate your message points so that they can be easily understood and remembered by your audiences. Nervousness and self-doubt are natural experiences a communicator passes through during communication. Still, these drawbacks can make your audience lack conviction in your message. Therefore, having the confidence to speak out is essential for effective communication. This course will show you how to build confidence that will enable you to excel in your business and social interactions. 
The final part of this course will focus on presentation skills. You will be taught how to develop expert judgment on presentation and how to use an ethical cheat sheet and speaker notes effectively. You will also be taught how to use PowerPoint to keep your audience engaged. Identifying flaws creates room for improvement. One way to identify weaknesses is when you practice and record yourself on camera. This course will explore the idea of video recording yourself. At the same time, you practice your speech to identify flaws and improve your performance. Communication is a never-ending process and is vital for the existence and survival of humans and any organization. This course is beneficial for learners who wish to improve their communication skills and develop their interpersonal skills. It is also helpful for sales representatives, business owners and managers who want to communicate and deliver clear and concise messages to their clients and customers. So why wait? Start this course now to improve your communication skills!
Start Course Now