In this free online course, you will learn how to help the team visualize success at the offset of the project whilst the objectives are still being conveyed. This will increase your success rate, make the project team members feel valued, and more likely to respond well to possible challenges. Also, you will learn how to close out a project and celebrate the project's success. Register for this course today and improve your career skills!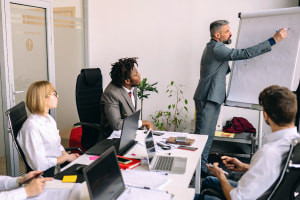 Duration

1.5-3 Hours

Accreditation

CPD
Description
A project team is a team whose members usually belong to different groups, functions and are assigned to activities for the same project. This course is a combination of new material and a more in-depth look at some key topics. It covers all the aspects that successful project managers need to learn to effectively manage a large project team. The tools and techniques taught in this course are a must-have to complete complex projects on time with more business value. You will develop core competencies in interpersonal skills such as fostering self-understanding, team building, motivation, and conflict resolution. You will gain a better understanding of what drives team performance and how to build and sustain your high-performing team through team assessment, role-play activities, and discussions designed to encourage self-reflection. Regardless of the seniority or experience level of the project team members, each person needs to be totally clear and committed to achieving the project objectives. Participants in this course should have had an introductory course or project management experience.
Due to the high level of uncertainty, roles and responsibilities, changes occur more frequently, and the team needs to be flexible enough to adapt to new challenges. Due to time constraints, there is more stress working on a project caused by the inherent uncertainty of working. In new areas or with new groups of stakeholders, or in solutions that no one has ever explored before. This course combines the essential elements of project management and team leadership into one course. In this free online course, you will acquire a further understanding of the responsibilities of leadership and become better prepared to apply this knowledge to the project environment. Upon completing this course, you will be able to: Learn about the role of high-performance teams and leadership in project management, and learn about the tools and techniques for developing and strengthening high-performance teams and team members. Also, you will learn the stages in the project cycle and how to apply best practices to develop competencies and skills in planning and controlling projects to ensure successful outcomes.
Team management includes the processes required to make the most effective use of the people involved with the project. The project team includes the project manager and the project staff who have been assigned the responsibility to work on the project. Managing a project team is quite different from managing other types of staff, the project team has a start and an end, in terms of duties assigned to the project. Team members come to the project with different skills and experiences, and in many cases, it is the first time that they are working together. This course takes you through how to monitor project activities and assess progress. You will understand how to communicate proficiently to report project status and performance to stakeholders and contribute to the organizational knowledge base. The course is the best starting point to continue your knowledge on the relevant and basic skills required in managing a project and team. This course is a must-have for Project Managers. The skills taught in this course will enable the project managers to apply effective leadership strategies, improve interpersonal communications, and become more influential.
Start Course Now