Decision Making, Problem-Solving and Time Management
Discover the art of creating time for yourself to make decisions and solve problems with this free online course.
Publisher:

Sanja Stojanovic
Did you know we make over 35,000 decisions per day on average? That is a lot, and it is not good for us if we are not skilled. We become agitated, apprehensive, and disappointed when we have difficulty managing time and making decisions. This free online time management course will teach you the correct tools and methods and how to apply them so you can rid yourself of the anxiety that comes with decision-making and problem solving.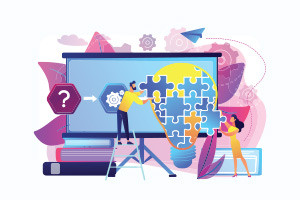 Duration

1.5-3 Hours

Accreditation

CPD
Description
What role does stress play in decision-making, and why is this a crucial skill? Daily, we base ourselves on several decisions. Some decisions are simple, such as what to wear or eat today, while others are more complex and difficult, such as life decisions. And making decisions is a mental process. So it is extremely exhausting when we don't know how to do it correctly. We become apprehensive and tense when we cannot decide; it is as if we have a mission to complete but do not have the know-how. Then we put off deciding, which adds stress to our daily lives. This results in extremely negative feelings such as anxiety, depression, disappointment, low self-esteem, and the creation of a negative image of yourself. This time management training course will show some fantastic tools and techniques that you can use to make better decisions.
It begins by describing why decision-making is a valuable life skill and the different approaches to reaching a decision are discussed. You will discover that people can make judgments using intuition, measurement, testing possibilities, or simply asking for help and that we probably employ all of these options at some stage, depending on the situation. The seven stages of the decision-making process are described in the next section and the content of this time management online course covers how to complete the steps of the procedure and restart if you make a mistake. However, as with any process, there are some roadblocks to decision-making. Next, you will understand how lack of information, external pressure or preconception can be obstacles in the process. In addition, how personal characteristics such as insecurity, indecisiveness, lack of self-confidence, and lack of motivation harms decision making are explained.
The following section explores the tools, approaches, and procedures for deciding more easily and quickly. You will also be shown how to avoid the most common pitfalls that make it harder to make wise decisions. The next key section practically explains the ways of managing your time and setting realistic goals in every element of your life. The last part of this time management program explains the Wheel of Life and 1-1-1 technique that helps in achieving your goals. Multiple forms of decisions can help you cope with the pressures of time constraints, deadlines, and high demands and enrolling in this course will show you how interdependent time management and decision-making skills are. This free time management training is for anyone struggling to cope with the demands of work and life and could use improvement in their time management skills.
Start Course Now