Understanding Technology in Customer Relationship Management
Learn how technology has modified the way businesses manage their customer relationships, with this free online course.
Publisher:

NPTEL
With the advent of modern technology and the advancement of the internet, customer relationship management (CRM) has been streamlined into many CRM processes. These processes have led to improved capture and understanding of customers' needs. This course will give you a quick insight into how the internet-based CRM operates, including its strategies and components. You will also be shown how businesses can implement Global CRM successfully.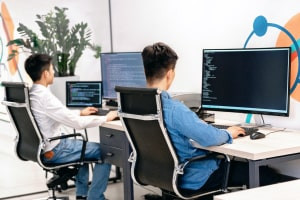 Duration

1.5-3 Hours

Accreditation

CPD
Description
Just like technology has changed the way we communicate with each other, it has also changed the way businesses communicate with their customers. This change is felt more in the customer service area of organisations. Nowadays, you don't have to be physically present in an organisation to get information about that organisation. The internet is there to help you connect with the organisation and get the information you need. Also, with the internet and modern technology, companies can easily get feedback from customers on the services they render. This course will show you the basic structure of internet customer relationship management, also called the electronic CRM (eCRM) system. You will be shown the basic architecture of a data warehouse, and how the data warehouse is essential in eCRM. You will learn about the key modules of eCRM such as campaign management, sales management, and managing customer feedback.
Subsequently, you will be introduced to the operations of contact centres. Successful companies take their contact centres very seriously, as it is a key way to help their customers with enquiries whilst understanding their needs. Have you ever called the contact centre of a telecommunication company and then you are told to stay on the line for some minutes, that an agent will be with you shortly? Well, this is very common with most telecommunication companies. It is one of the CRM strategies of making customers patient. In this course, you will learn how CRM strategies are implemented in contact centres of organisations. Next, you will be introduced to the importance of global CRM. You will discover how cultural diversity impacts the implementation of CRM in an organisation. Furthermore, you will learn about a conceptual framework of global CRM and the importance of global account management in companies with multinational customers. Lastly, the course presents a case study to explain how global CRM can be implemented successfully in an organisation.
The management of customer relationships has evolved over the years and it is critical for businesses to understand how technology has played such a huge role in that. The use of technology, such as the internet, has enabled a more efficient implementation of customer relationship management. It has made interaction between businesses and customers a lot easier. It is essential for business owners or customer relationship management (CRM) experts to understand this evolution in CRM, as it helps with how they drive the success of companies. This course will quickly show you how technology is instrumental to the management of customer relationships. Whether you are looking to be an in-demand CRM expert or just want to understand how the internet has modified the way businesses manage their customer relationships, this course will give you a quick path to understanding that. So, what are you waiting for? Start this course today.
Start Course Now