Operations Management, Strategy and Product Design
A free online course on operations management that will help you design products to match your customers' needs.
Publisher:

Saylor Academy
This free online certificate course in Operations Management, Strategy and Product Design will expose you to the important techniques and practices in operations management and will help you learn how to apply these techniques and practices in the designing of products and services that your customers (and prospective customers) will need. Start your learning journey today!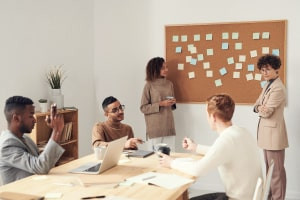 Duration

1.5-3 Hours

Accreditation

CPD
Description
The main goal of every organization is to make profit. In an effort to achieve this, organizations usually put a lot of time and resources into manufacturing a product or providing a service that prospective consumers will want (or need). The more a product is needed, the more sales are made and therefore the more profit is made. It is no surprise then that operations forms one of the three strategic functions of any organization. The goal of operations management is to maximize efficiency while producing goods and services that effectively fulfil customer needs. Operations decisions include decisions that are strategic in nature, meaning that they have long-term consequences and often involve a great deal of expense and resource commitments. It is this commitment of resources such as raw materials, employees and technology that brings about the products that are taken to the market for customers to purchase and make use of.
This course begins by introducing you to operations management and the various functions it plays in an organization. It then takes you through the main differences between manufacturing and service operations. As you progress, you will learn how operations management can help in the creation of ideas and the design of products and services that will be useful to your targeted market of consumers. This course exposes the learner to the role of the operations manager and the various, strenuous roles the operations manager has to play in the organization. Strategic management techniques will be covered, and can be viewed as bottom-up, top-down or collaborative processes. In the bottom-up approach, employees submit proposals to their managers who, in turn, funnel the best ideas further up the organization. This is often accomplished by a capital budgeting process. Proposals are assessed using financial criteria such as return on investment or cost-benefit analysis. This course exposes the learner to the nitty-gritty of strategic management and the role it can play in the entire operations management process. You will also learn about the various management levels and how these different levels contribute to the product design and operational successes of the organization.
This specialized course in operations management and product design will equip you with the knowledge needed to steer a product manufacturing or service delivery organization to success. Whether you are a sole proprietor or working in a company, this course will be useful because, at the end of the day, every business person wants their product or service to be accepted by the intended market. So what are you waiting for? Jump in and learn the skills that will help you steer your organization to success.
Start Course Now