Leadership and Management in Organizations
This free online course will take your skills from good to exceptional by learning crucial leadership principles.
Publisher:

Saylor Academy
In thIn this free online leadership certificate, you will learn the core fundamentals of organizations at a management level. We've covered five major Organizational Behaviour (OB) areas, including managing individuals, managing groups, theories of motivation, power and politics, conflict management, communications, and organizational change. Explore what an organization is as well as the history of organizational behaviour as a discipline.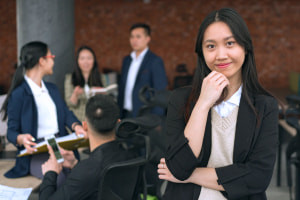 Duration

6-10 Hours

Accreditation

CPD
Description
Consider the following question: what is an organization? An organization is a collection of individuals arranged in a particular way and embedded in an ever-changing environment to achieve a common goal. In this introductory management training, you will learn about organizations in business, focusing on how the individual plays a role in the success of the organization. You will learn that you must understand what influences individual behaviour before you can study how individuals interact with organizations. As in psychology and sociology, the person is the focus of organizational behaviour (OB). And because sciences like psychology and sociology are older, more established fields of study than organizational behaviour, we will take a look at them to better understand the purpose and applications of OB. This leadership course will provide you with an introduction to OB, including the history and emerging trends of OB and identify the micro-level factors that contribute to our understanding of the OB field. You will also learn about how OB is connected with other sciences as well as learn how to properly evaluate research in OB.
This course will help you explore how individuals interact within a firm. As you know, different incentives motivate and influence individuals; some people strive for success or social status, others just like to keep busy, and still, others are focused on simply making money. These are important differences to consider if you are at the helm of a business, as it may influence how you motivate your workforce. The leadership course discusses individual personalities and you will get to know what inspires people to want to succeed in the workplace. The various tools used to identify these traits and recognize that certain traits, such as the ability to handle stress, are more desirable than others in a work setting are comprehensively discussed. It's also important to realize that different organizations will value traits differently - for example, perhaps your organization values a sense of humour more than others; but knowing these traits and how to identify them in people will greatly enhance the success of a business.
As you go through these principles of management, you'll understand why business success relies on teams and groups, and especially learning how to properly manage them. This is one of those most important messages you will take away from this management certificate. What defines a group or team, the key differences, similarities, cross-cultural influences on groups and the types, characteristics, and cohesiveness of groups are all covered. This course is ideal for any new or even seasoned leader hoping to improve how they manage their teams or groups. Enrolling in this leadership training will ensure that you have all the essential skills and knowledge to be a better, well-rounded, and effective leader who inspires others.
Start Course Now