Effective Leadership Skills and Strategies
Get ahead and learn the skills and strategies required of an effective leader in this free online leadership course.
Publisher:

EntrepreneurNOW Network
Leadership entails the ability to influence others towards attaining a common goal. The hallmark of any great leader is the success of each individual member of the team. However, every team comprises individuals with diverse backgrounds and personal philosophies. The primary responsibility of every good leader is to consider these individual differences and harness them towards achieving the team's objective and success.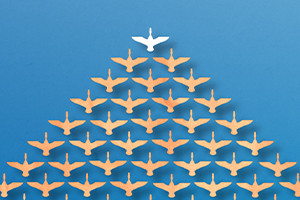 Duration

1.5-3 Hours

Accreditation

CPD
Description
We can liken good leadership to the oil that fuels the engine of a train. Unfortunately, a good leader can sometimes inadvertently exhibit some habits that dampen the enthusiasm of a particular team member or the team as a whole. Such behavioural attitudes do have some consequential negative impacts on the team. This leadership course highlights what you need to start or stop doing to elevate every team member to reach their potential. Constructive feedback is one element leaders can provide to their team. When delivered correctly, constructive feedback can fortify positive behaviour, correct negative performance and sustain a strong culture in a group. You will learn how to give and receive effective feedback in this course.
The human brain is comparable to a computer. The programs you run in your head work for you or against you. Discover why you do the things that get in your way of success and how to reprogram your brain like a PC to adopt essential leadership attitudes that will benefit your team and organization. For example, regardless of how emotionally intelligent you are, you are bound to lose your temper at some point in your life. This course will provide you with the wisdom you need to remain calm and not overreact under any given circumstance. You will examine the various approaches (logic or emotion) you would adopt based on the desired outcome you need in a given situation. There's no such thing as a flawless leader. Every human is bound to make mistakes in life, whether well known or not. Own up to your oversights as a leader and make amends where necessary.
Conflict Resolution is one of the primary responsibilities of every leader. When unresolved conflicts are left to fester, the work environment becomes toxic, not conducive for work and less productive. This course will teach you how to neutralize or minimalize conflicts within your team or organization as a whole. In addition, you will learn how to say 'no' without saying the word 'no'. Learn that the word 'no' can sometimes be the safest answer you can give to the benefit of all of the stakeholders involved. Good leadership is necessary to achieve a desired, clearly stated goal of a team within an organization. By taking this course, you will be equipped with the skills and strategies needed to lead your team with premium results effectively. Sign up to get ahead!
Start Course Now