Introduction to Working in Sales
This free online course will show you how to become a solution-oriented salesperson that outshines the rest.
Publisher:

Saylor Academy
This free online course will show you some of the powerful techniques world-class salespeople leverage to tailor solutions to meet their customers' needs. You will learn to establish healthy professional relationships with your customers, which will help all parties benefit from them. This online certificate course prepares you to position yourself for better employment as a salesperson.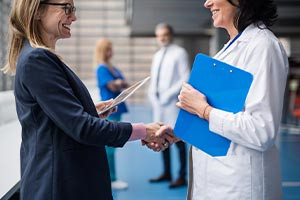 Duration

1.5-3 Hours

Accreditation

CPD
Description
We will start by introducing the type of people buyers are interested in establishing relationships with. Once we have done this, we'll explain how preferred relationships impact profitability from an organizational standpoint. We will also provide you with a better understanding of the importance of connecting with innovative customers and customers with status. And then, we will explore the issue of trust, which is vital in building sustainable relationships with your customers, just as it is with your family and friends. We will go through the four types of customer-seller relationships and how they are developed. For instance, some connections are formed out of customers' habitual purchases of products. And then there are more underlying, subtle factors to consider - such as the underlying seller's motivation to relate with customers. Understanding this is important because sales strategies differ significantly based on the relationship between the customer and seller. By the end of this course, your understanding of these different strategies will help grow your customer base. We will provide you with a roadmap to form a network both online and in person.
Next, we will provide guidelines to develop healthy professional relationships with customers. The best relationships are best sustained when you understand customer's needs and behaviours and respond appropriately. This course will enhance your ability to respond to these needs and behaviours by equipping you with the right tools to capture customer transactions and communication details. This will make it easier for tracking and follow-up, which will enable you to generate more sales. Exceeding customers' expectations is crucial in the sales process. And it is crucial because when you meet expectations, you build trust and improve your relationship with your customers. In addition to generating a better understanding of exceeding expectations, we will also explain the types of wins in a sales process. A salesperson needs to deliver success to all players they engage with during the selling process. Networking also is essential. We will provide practical tips to help you build a network both in-person and online. In addition to this, we will provide you with a matrix to help you understand how people behave to help you adapt your selling style.
This course is designed to equip you with what you need to become a fulfilled and successful salesperson. A successful salesperson has three key traits - we will take you through them step-by-step and show you how to adapt these qualities to polish your sales skills. We will also take you through the different activities a salesperson may be expected to carry out on different days to create more value. Lastly, there are two major distribution channels involved in making products and services available to different customers. This course will take you through the characteristics and intricacies of these channels. If you would like to pursue a career as a salesperson, look no further than this course. And even if you're already working in this vibrant and exciting field, this course will help you get your career in the fast lane. Sign up now!
Start Course Now