Introduction to Public Speaking
Become the speaker you've always wanted to be with this free online diploma course on public speaking.
Publisher:

Saylor Academy
This free online course will equip you with all the skills you need to be an effective speaker. Upon completion of this course, you will know how to get your message across effectively. You will also learn how to identify key audience characteristics to help you observe when you're being listened to or merely being heard. If you'd like to become a trusted, valued public speaker, look no further than this opportunity. Sign up today!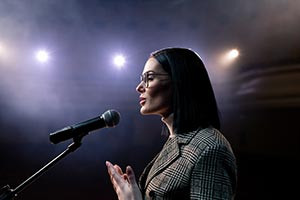 Duration

4-5 Hours

Accreditation

CPD
Description
Have you ever been asked to give a speech about a particular subject? It might have been in your school, religious organization, workplace or elsewhere? And were you nervous about it? Research has shown that even some of the most established public speakers feel nervous when speaking to an audience. Apart from the anxiety public speakers experience, many are unfamiliar with the dos and don'ts to deliver an effective public speech. For example, it's crucial to have a firm grasp on the topic you will be talking about. And do you have an idea of what your audience looks like and what they are interested in? How do you know your message will add value to their lives? This course will help you answer these and many more questions with confidence, and by the time you're done with this course, you'll be ready to start speaking like a pro.
We will start by examining the importance of public speaking. Together, we will study the interactional model, the dialogic theory of public speaking, which will give you a better understanding of public speaking. The course further discusses the ethics of public speaking, examining the ethics pyramid and free speech rights. Is the right to free speech absolute? You will be able the answer this by the end of this course. Suppose you get nervous or anxious before speaking. In that case, we will equip you with more insights to understand the sources of communication apprehension and how to deal with it. The course goes on to examine the differences between listening and hearing. It's important to know if your audience is actually listening to you or merely hearing you speak and how to rectify this if it's the latter. Finally, we will discuss the concept of 'audience analysis'. If you're about to speak about a touchy or controversial subject, you need to know how to speak without offending your audience. This course will show you how to get a realistic idea of the background of your audience before delivering a speech. Our audience analysis guidelines will also equip you to engage with divergent views constructively.
If you are a professional speaker looking to improve your public speaking skills, look no further than this course. It is also suitable for students looking to learn more about public speaking. It has all the ingredients you need to become the speaker you have been dreaming of becoming. We have compiled a course that will transform you from a poor speaker to a better, confident speaker. Do you know that public speaking is not limited to a group of people in an auditorium? With the rise of social media, people voice their opinions on various topics such as politics, entertainment, sports, and national issues. This is why the skills taught in this course will be helpful, regardless of your public speaking medium. So, what are you still waiting for? Join in on the ride and start speaking with confidence.
Start Course Now