Effective Public Speaking Skills
Learn the art of delivering effective public speeches with confidence in this free online public speaking course.
Publisher:

EntrepreneurNOW Network
The benefit of public speaking runs across different sectors of the economy, including the business sector. As a public speaker, you have a message. Your goal is to deliver good content to the right audience. Passing inappropriate content to the audience defeats the essence of public speaking. This course will teach you how to craft and deliver well-articulated messages with magnetic impact to make sure your audience hangs on every word.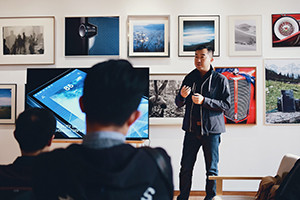 Duration

1.5-3 Hours

Accreditation

CPD
Description
The art of public speaking is a skill that ensures the free flow of excellent content that passes across a message to an audience. However, to become a successful public speaker, you have to be professionally trained, passionate, knowledgeable on the particular topic you want to communicate and have the right audience for your subject. Discover how to compose and deliver a well-crafted message to your target audience in the most memorable ways. Then learn how to use your message to transform lives, elevate your audience and generate business leads. Unfortunately, the fear of public speaking has prevented many talented businesses from being discovered. In this course, we teach you how to conquer the fear of public speaking by systematically replacing each letter of 'fear' with positive words that will get you in front of your audience feeling excited about delivering a speech.
If you want to persuade your listeners to buy from you, you need to uncover what they want and give it to them. Analyze how to find out what they want and develop a business showcase. Create a five-minute speech that outlines your business or product and attracts new clients using a proven formula. Add great content and useful tips and techniques to make it a value-added message. Our world today is a visual one. Speaking time is rapidly getting shorter and shorter by the day. Therefore, as a business owner, you need to have a five-minute speech that you can employ when you only have a few minutes to speak. Learn to make your concise delivery impactful by being memorable.
If you want to achieve the best results from your speaking efforts, you must abide by specific rules. Do you know the seven rules of public speaking? Investigate the practices of successful orators to enable you to apply each of these rules in your presentation. The benefits of public speaking are too many to overlook. This course teaches you how to define a market and niche, goes through rehearsal techniques to improve your public speaking as you develop cues to trigger topics rather than writing scripts. Change lives with your words by enrolling in this course today!
Start Course Now