Become a Professional Speaker
If you are planning on a career as a professional speaker, this free online course will teach you all you need to know.
Publisher:

TJ Walker
This free online public speaking course will tutor you on the art of writing an interesting speech with at least five memorable messages and how to transform your expertise and passion into a marketable business to become a successful professional speaker. Learn the importance of a regular presence on social media, why the phrase "practice makes perfect" is especially true when it comes to public speaking, and many other public speaking tips.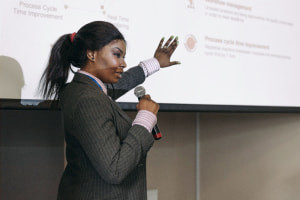 Duration

3-4 Hours

Accreditation

CPD
Description
Did you know that anyone can become a professional speaker? When you speak in your profession as a lawyer, manager, sales representative, university or college professor, or any other, you are making a professional presentation. Your job is not only to deliver information but also to influence listeners positively and are required to give an exciting and memorable speech. If you are wondering what exactly public speaking is and how you ensure that a speech is memorable, then this free online public speaking course will help you with the art of speech preparation and the essentials to becoming a professional speaker. Just about every speech that doesn't have a goal, can be said to be meaningless or useless. You will be taught the importance of a speech goal and the concept of brainstorming your messages to motivate your audience to persuade them to take action. A speech's aim is defeated if it contains too many messaging points and the course content shows you practically how many message points are required to keep a speech interesting and memorable to an audience.
Why do people often get stuck during presentations and forget some key points? Many times, speakers try to memorize their full speech rather than internalizing the important messages. By taking this public speaking training course, you will gain an understanding of what a 'cheat sheet' is and how it can help you stay on track with your key message points. In this course, TJ Walker, leading media trainer, will guide you through the niche selection process which will help you focus on your expertise as well as help you find your target audience easily. After that, you will receive advice on creating content and using social media platforms to share it with a particular target audience. One of the key steps in becoming a professional speaker is to be social and you will be taught how to leverage social media in order to attain your social goals, grow your audience and add credibility to your professional life as a public speaker.
It is important to practice your speaking skills before presenting in front of a live audience if you want to become a professional speaker. The rule of thumb is to speak and practice often and do so confidently. You will be shown how to improve your public speaking skills by learning the various effective practicing techniques before moving on to the business side of things. How to create a business model, market yourself, inspire audiences to take action, and ultimately use your passion for public speaking and turn it into a full-time job are all covered in this comprehensive course. If you want to take the plunge and take the stand with a public speaking certification, then enrol in this free online public speaking class and unlock your potential.
Start Course Now