A Complete Job Interview Skills Guide
This free online course will give you the tips and confidence to help you secure a position during a job interview.
Publisher:

Imran Afzal
Are you preparing for a job interview? In this free online course, learn how to develop the best interview skills to help you be successful during the job interview process and secure a top job. You will be taught about the different interview formats, how to answer common situational, technical and behavioural questions along with what you should and should not do during the job interview in order to ensure that you are successful.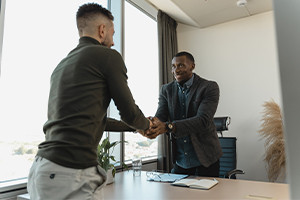 Duration

3-4 Hours

Accreditation

CPD
Description
Landing a job is very difficult, particularly in countries where the rate of unemployment is very high. Having applied for a job, being invited for an interview is the next step in the recruitment process, which will hopefully end in employment. This course stands out as a complete job interview skills guide that explains how to prepare and succeed in a job interview. A job interview is about selling one's skills to a hiring company - as a seller advertises their goods for you to buy, a job interview is an opportunity for you to promote your skills to a prospective employer. This interview skills course teaches you how to be the best seller of your gifts to that employer and you will learn that the best way to sell your skills is to go through the job description and get as much information as you can by researching the company and by discussing it with some of the employees working at the hiring company.   
As you work through the course, you will also learn about the interview format, which rarely changes from one employer to another. After the usual greeting, you will be briefed about the company background which is generally followed by a discussion of the job requirements in the job advertisement. They will then ask you to tell them about yourself which is a very important part of the process - the content covers the best way of responding to such a question which is a five-stage story about yourself. Behavioural questions will inevitably come up in the interview and the STAR method will be explored and is recommended as the best way to deal with these. We will also help you prepare for other types of questions that are also generally asked, depending on the field of work you will be hired for, such as technical, situational or scenario-based questions. Invariably, at the end of the interview session, you will be asked if you have any questions for the person/people interviewing you and although this appears to be unimportant, it can be strategically tricky. This course will help you impress them with tactful, comprehensive questions.
Before going to any job interview, make sure that you are familiar with what is in your resume. You may be asked questions about your strengths and weaknesses and along with how to respond to such questions, the content explores the difference between personal and work-related weaknesses and how revealing work-related weaknesses through a story is the best course of action. What should you do and not do during the job interview process? This, and many other practical answers to common questions are comprehensively dealt with in this course with a specific emphasis on the importance of practicing your interview skills. You should enrol in this course if you are in the market for a new role as a jobseeker or in human resources as a hiring manager or consultant.
Start Course Now