Group Communication, Teamwork and Leadership
Learn how to establish and facilitate group communication in the workplace with this free online course.
Publisher:

Saylor Academy
This free online group communication course will teach you the rudiments of group communication, group life cycles, member roles, and how to solve problems as a team in the workplace. With this course, you will study how to prepare for and conduct business or professional meetings effectively. You will also learn about teamwork and leadership in general. Begin this course today and build your group communication, teamwork and leadership skills.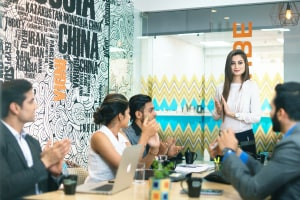 Duration

3-4 Hours

Accreditation

CPD
Description
This course will provide you with the rudiments and elements of group communication. You will be introduced to this concept and learn about the primary and secondary group types and the contexts in which they are observed in real life as well as the possible interactions within these groups. The course will take you through group life cycles, where you will study the intricacies and patterns in the developmental process of groups over time through different stages. The next section will take you through the different group member roles where you will learn about positive and negative member roles as described by Beene and McLean. Challenges are inevitable in daily life, whether experienced as an individual or as a group. This course will teach you how problem solving is achieved with groups and the different steps to actualizing this process, from the problem definition stage through the problem analysis and criteria establishment stages, right up until the solution implementation and follow-up stages.
The course also teaches you about business and professional meetings. You will learn about meetings and their relationship to problem-solving groups. You will learn how to prepare for professional or business meetings and discover the relative advantages of a face-to-face meeting over a virtual one. Discover how to conduct meetings and the roles to be played by all participants. The course also provides a checklist of cautions and the behavioural requirements for members of a meeting, including the importance of transitions and feedback during meetings. After learning about the face-to-face form of professional meetings, you will then learn about the use of technology for virtual professional and business meetings. The course will touch on communication channels such as the use of social media, audio-only channels and audio-visual channels, as well as the shared advantages with the face-to-face form of business meetings. You will also learn about the types of leadership and how they are observed in real life. This course wraps up with lessons on teamwork in the workplace.
Group communication is an important element of communication in the workplace, and so are all its related aspects. By understanding group lifecycles, an individual knows what to expect before and during the development of groups. By learning about member roles, an individual can clearly articulate why certain group behaviours are perpetuated by some members of a group, as well as what is expected of them. In learning about business and professional meetings, the individual is shown how to organize and facilitate meetings in the workplace. It is one thing to come together and build groups for the sake of group communication, but certain principles, guidelines and attendant concepts are required to maximize group communication in order to solve problems and achieve desired outcomes in the workplace. This free online course will examine the differences between a group and a team, and covers the lifecycles, member roles and problem-solving characteristics of both units. It will also discuss the standard practices associated with business meetings, and how leadership styles impact teamwork and group outcomes. With accompanying topical exercises, this course promises to provide the learner with a well-rounded understanding of group communication in the workplace. So why wait? Begin your learning journey right away.
Start Course Now