Introduction to Growing Organic Food Sustainably
Learn how to grow an organic vegetable garden in a sustainable and environmentally-friendly manner with this course.
Publisher:

Grow It Yourself
This free online horticulture course will teach you about how you can grow a large variety of vegetables such as carrots, cabbage, lettuce. You will learn how to maintain a vegetable garden plot, improve your garden soil, make compost, create a raised garden bed, implement crop rotation, and the proper way of sowing seeds. Take this free online course today and learn how to grow your own, organic, sustainable food.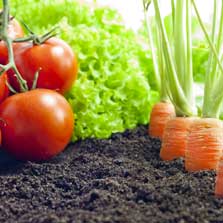 Duration

1.5-3 Hours

Accreditation

CPD
Description
This course begins by teaching you how to grow vegetables such as beetroot, chilli peppers, perpetual spinach, artichokes, and celery in a sustainable and environmentally-friendly manner. You will also learn the correct process for planting sprouting broccoli, shallots, kale, spring onion, tomatoes, parsnip, potatoes, and other vegetables that you can cook at home. Planting your own vegetables will not only save you a lot of money but keep your family healthy too.

You will then learn how to maintain your vegetable garden. You will study how to perform crop rotation, improve your soil, test your soil, and make your own compost. This will ensure that your vegetable garden is growing healthily. You will also get useful information on vegetable families and learn about raised beds and sowing seeds. In addition, this course will give emphasis on how to grow popular vegetables such as peas and garlic.

Growing your own organic food in an environmentally friendly and sustainable manner is becoming a very popular activity. However, many people hesitate at growing vegetables as they are uncertain how they should start and of the kind of work that is needed. Upon the completion of this course, you will learn all aspects of growing garden vegetables in an organic and sustainable manner so make sure to check this course out and put your green thumb to work!
Start Course Now