Food Safety: Good Manufacturing Practices (GMP) in the Food Industry
In this free online course, learn about the necessary practices to produce hygienic food within your food establishment.
Publisher:

Mokhtar Harb Abd-El-Khalek
This free online course will teach you about the key food safety requirements and practices to ensure the production of safe food in your establishment, known as GMP or good manufacturing practices. It covers topics ranging from the reception of raw materials to the production of the end product. It also covers establishment design, personal practices, production operations control and conditions, and food product information.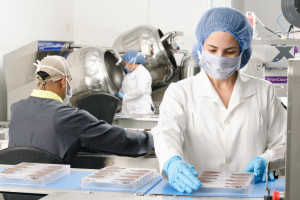 Duration

1.5-3 Hours

Accreditation

CPD
Description
Food safety and hygiene have become one of the utmost concerns for both consumers and food producers. Production of safe food is now the priority of food manufacturers. In this free online course on good manufacturing practices (GMP) in the food industry, you will learn in depth about the requirements for any production facility to produce safe and wholesome food that complies with the recommended global practice. The course starts with the introduction, definition and the importance of food safety and food production chain approach, and the need to comply with the global scientific recommendations to guarantee the safe production and processing or handling of food in all the segments of this chain. Moreover, learners will study the position of GMP in this chain and its importance as a key prerequisite program for the further application of hazard analysis and critical control points (HACCP) systems. Key food safety and GMP terms are also explained in this course.
Learners will study the requirements of any food processing establishment with regard to its location, design and equipment along with cleaning, disinfection, pest control and maintenance programs. The course will elaborate on the good hygienic practices that should be implemented by food processing personnel which include different hygiene aspects such as personal cleanliness, food-borne illnesses and proper food handling behaviors. Training and competence of food production personnel to properly implement the food safety requirements will be discussed. Significance of food processing steps and operations, the necessary control measures to control the safety of food and to prevent the cross-contamination during processing and other handling steps such as transportation will also be explained. Finally, learners will study the importance of proper food product labeling and the basic information that has to be shown on food packs or containers to create consumer awareness about the food they are about to consume.
Thus, this course will be relevant to those interested in the safety and hygiene of food, and to all establishments working in the different areas of food processing. Managers, supervisors, technicians, caterers or workers in any food manufacturing establishment will gain the required knowledge to ensure the production and handling of safe food within their establishment. This will also help them further implement any food safety management system standard such as ISO 22000 or BRC. Moreover, this course will help you advance in your career and show your competence in this area. Compliance with the global food safety requirements that will be reviewed in this course will be a great asset to any food establishment to keep its position within national and international food production and trade markets. No registration or subscription fees are charged so enrol today.
Start Course Now