Interpersonal Skills for Elite Leaders and Project Managers
Learn about crucial interpersonal skills used by elite leaders and project managers in this free online course.
Publisher:

Stone River eLearning
Interpersonal Skills for Elite Leaders and Project Managers is a free online course that provides you with the broad knowledge of various interpersonal techniques and skills. You will be exposed to the up-to-date methods used for handling people, subtle personal adjustments that you can make to win people over and many different methods for telephonic conversations with a focus on efficiency and professionalism.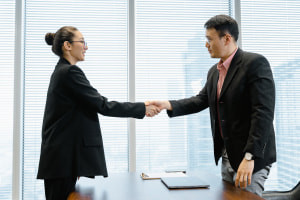 Duration

1.5-3 Hours

Accreditation

CPD
Description
This free online Interpersonal Skills course carefully and critically analyzes interpersonal skills successfully used by various professionals and the key themes cover "man-management", winning people over and telephone skills. This leadership training course on Interpersonal Skills for Elite Leaders and Project Managers will ensure that you stand out in these critical areas and the character, qualities, and communication skills required to succeed will be discussed in practical terms. Did you know that showing care is an obvious but often overlooked skill for elite leaders to have? Do you know what the implications are of not paying attention to team members' opinions? Or which common causes of distractions occur during formal or informal presentations? All of these questions are comprehensively covered as well as the visualization technique needed to ensure attentiveness during meetings and presentations.
Some key leadership principles topics in the leadership certificate covers the importance of listening over talking, ways to keep the attention away from oneself and rather your team members, subtle adjustments you can make such as smiling and body language. Study the importance of a smile to people along with a brief history and fun facts on the significance of smiling. Communication plays a vital role in workplace success and interpersonal relationships and the use of language and vocabulary is studied in the next part of the content. This sets the tone as you learn the real essence of energy and enthusiasm along with the overarching role your personality plays during any kind of interaction. This energy and enthusiasm especially applies to telephone etiquette and you will study the best sequence or way of answering the phone for various individuals and how an engaging, friendly personality can rub off on the next person.
The content in this soft skills course has been carefully curated using the latest and best techniques from elite leaders and project managers. You can improve your interpersonal-, leadership- and communication skills, by enrolling in this free online leadership course whether you are a student hoping to get on better with your peers and lecturers or a leader wanting to create a better team culture through espousing a more conducive demeanour.
Start Course Now