Fundamentals of Adobe Illustrator CC
This free online course examines the features of different tools available on Adobe Illustrator CC for graphic design.
Publisher:

YouAccel Training
This free online Adobe Illustrator course introduces you to the fundamentals of the Adobe Illustrator CC and explains the differences between the several vector objects. You will learn all about the different types of graphic file formats, how to work with multiple documents, the process of creating rounded rectangles and other objects, and the many features and tools you need to know in order to start your journey as a graphics artist.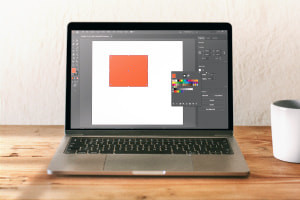 Duration

3-4 Hours

Accreditation

CPD
Description
Adobe illustrator is a very popular software package that is widely accepted as the standard in the vector graphics community. This free online Adobe Illustrator certification takes you through Adobe Illustrator basics and will enable you to master using the tool for creating graphics for cards and posters. Did you know that the Adobe Illustrator environment is one of the most impressive graphics environments for multimedia professionals?  You will learn how to open, create, and customize templates, work with multiple documents and apply special effects to various kinds of artwork through editing. The next section teaches you how to use the many arrow tools, especially how the black arrow tool is used for direct selection of objects before moving on to how to use the zoom function to zoom in and out of a document. 

The steps needed to create a new document are discussed before this Adobe Illustrator tutorial delves into the technical aspects of creating graphics such as the sets of shape tools, line segment tools, managing, moving and duplicating shapes, transforming and positioning objects more precisely by using increments or specific numeric values and the simple drawing techniques you need in order to create rectangles, squares, ovals and circles. Knowing how to select various objects plays an important role in the grouping and ungrouping process and this will be explored in great detail.
Applying fills and strokes to objects is the next part of the course before moving discussing some other important topics such as Illustrator's swatch libraries, working with text (both point and area text), the layering options available, pathfinder tools, and exporting your files in various raster and vector formats. If you have always had a passion for design and graphics and want to turn this into a budding career, then Adobe Illustrator is a very good place to start. The software is easy-to-use and enrolling in this Adobe Illustrator online course will teach you all of the basics you need to master to create all kinds of artwork and graphics such as logos, posters, templates, and much more.
Start Course Now