Adobe Photoshop for Beginners
Gain basic skills to create, edit and animate various easy projects using Adobe Photoshop in this free online course.
Publisher:

Stay Curious Media Ltd
This free online course will teach you the fundamentals of Adobe Photoshop. You will learn how to use Photoshop panels, libraries, and presets. You will also study the various classes of Photoshop tools and each of their functionalities. The simple steps involved in creating an animation project will be explained and you will acquire all the basic skills to create, modify and animate projects on your own, in little to no time. Enrol today.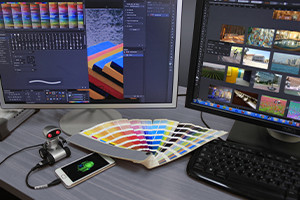 Duration

3-4 Hours

Accreditation

CPD
Description
Photoshop is a raster graphics editor developed by Adobe Inc. It is one of the most popular programs used by graphic designers today for creating images, illustrations, animations and much more. It is also used by Photographers for retouching their images and creating masterpieces in the photography and art world. Photoshop is used by almost all organizations around the world. Marketing and media professionals are expected to be knowledgeable about Adobe Photoshop and other Adobe products. This free online course will lay out the fundamental principles of Adobe Photoshop. We will focus on providing you with maximum knowledge for you to move on from a beginner to an intermediate level designer.
To begin with, you will be introduced to the Photoshop library. You will learn about the various library panels, as well as the presets offered by Photoshop. What are Photoshop layers and why do they play a critical role in any project? This will be covered next. You will then learn all about colour palettes and swatches. Afterwards, you will learn about cropping tools, framing tools and various healing tools. Healing tools like the spot healing brush tool, the clone stamp tool and others do wonders when it comes to removing imperfections from your projects. Another important tool that serves mostly in the process of logo designing is the Pen tool. The correct way to use this tool to create curves, straight lines and other shapes will be demonstrated.

Text is also a very important aspect of any design. The use of the right text can do wonders for a design. The next section of the course will focus entirely on how to write text, which font to choose and the various effects that can be used to elevate any text. Did you know that Photoshop not only allows the use of default brushes but also allows its users to create custom brushes? The process of creating a custom brush and the many benefits of custom brushes will be explained next. Finally, the last section of the course will be dedicated to teaching you about creating simple animations in Photoshop. This course is ideal for people who plan to get into graphics designing, as well as for those who enjoy designing creative digital artwork. So, if you want to improve your skills in creating beautiful masterpieces, this is the first step towards it. Take advantage of this opportunity and enrol on this course today.
Start Course Now