Fundamental Illustrations in Adobe Illustrator
This free online course teaches how to manipulate basic geometric shapes to create art using Adobe Illustrator.
Publisher:

Kelvin Fosu
Do you want to learn how to use Adobe Illustrator? This beginners course teaches the fundamental principles needed to create vector arts. We will introduce you to Adobe Illustrator's basic tools that allow you to manipulate simple geometric shapes, such as rectangles, circles, and stars. This knowledge will help create stunning but straightforward illustrations you'll love. If you are passionate about digital arts, you'll enjoy this course!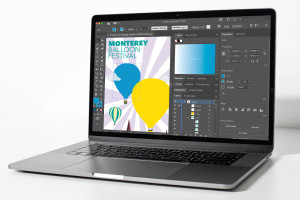 Duration

6-10 Hours

Accreditation

CPD
Description
Do you have an interest in vector arts but don't know where to start? Illustrators are in high demand in a large variety of fields. The options are endless, from graphic designers to animators and production designers in film productions, book illustrators, and creative ad designers. But, perhaps, you simply love art and would love to know how to create art using Adobe Illustrator. Just like painters who use oil paints to draw beautiful canvases, there are artists out there who create stunning works of art and then sell their work in places like AdobeStock.com. If this sounds like something that intrigues you, this course is for you. This course is designed to introduce you to Adobe Illustrator and teach you how to use its primary tools to start creating your very own vector arts. Learn the foundational principles that will help you create stunning artwork using simple geometric shapes.
This course will demonstrate how you can download Adobe Illustrator on your computer and then teaches you how to use its menu, save files, and create digital canvases or artboards, where you will be developing your art. You will then learn to create and manipulate primary shapes, such as circles, squares, rectangles, and triangles. Once you know how to work with these elementary shapes, you will start creating easy works of art, such as a bell, a trophy, a skate shoe, and other everyday items. This foundation will help you become familiar with Illustrator's basic tools. For example, learn how to use the pathfinder tool to intersect different shapes, add or extract areas, and even combine different shape patterns. Another important tool you will learn to use is the Shape Builder tool that allows you to intuitively merge, edit, and fill shapes on your artboard.
As you continue to study all of the course's tutorial videos, you will learn how to access different tools by using shortcuts on your keyboard. The illustrations in these tutorial videos will also become more and more complex as you get further into the course. You will create images of animals, superheroes and even emojis. You will combine colours and learn how to add shadows to give your illustrations depth, making the illustrations jump out. This course is easy to follow, and no experience is required. All you need is a willingness to learn and a love for art. You already have the most crucial tool, a creative mind. Now, remember to use the tools provided by Adobe Illustrator and let your imagination do the rest. This course is entirely free, so you have nothing to lose and everything to gain. Don't wait! Take this Fundamental Illustrations course in Adobe Illustrator today!
Start Course Now