Adobe Illustrator: How To Create Square Animal Icons
Learn how to draw squared animal icons using Adobe Illustrator with easy to follow steps in this free online course.
Publisher:

Andrey Bzhitskikh
Are you tired of making drawings that take time and still don't have a look symmetrical? Adobe Illustrator is used to design various items, including logos, posters, symbols, and many more. This 2D design course will teach you how to quickly draw squared animal icons using multiple tools and functions in Adobe Illustrator. By studying this course, you will learn how to maintain symmetry for different body parts of the animals.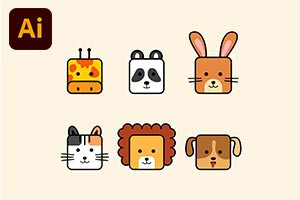 Duration

1.5-3 Hours

Accreditation

CPD
Description
Do you know that you don't have to be a professional graphic designer to create eye-catching square animal icons? This course will show you how to create 2D squared animal icons using Adobe Illustrator (AI). This course starts with showing how to select the distinctive characteristics of animals to use in their drawings. You will learn how to import your sketches and convert them into digital art in Adobe Illustrator. You will be taught how to maintain symmetry of various animal body parts such as eyes, ears, legs and more. The image we will explore is that of a squared icon of a lion. We will illustrate the technicalities involved in drawing the belly and paws using various shapes in AI. Furthermore, you will learn the importance and use of various Adobe Illustrator tools such as 'Line', 'Stroke', 'Group', 'Transform', 'Align', 'Guide' and many more.
The head is the most prominent part of a 2D squared animal drawing. Learners will be taught how to create the head and components that make up the head. Though it is tricky to draw a mane, you will be shown how to create it using multiple circles and uniting them to create a single compound shape. The muzzle is the part of an animal's face that contains the nose, mouth and jaw. This course will illustrate how to create a muzzle with the help of the 'Square' tool. An animal tail is an element you don't want to be left out in your animal icon design. This course will highlight how to create an animal tail using Adobe Illustrator tools such as 'Pen', 'Direct Selection' and 'Pencil'. After creating all the necessary body parts of the animal, you will be shown how to choose and add various distinctive colours to the animal to complete the image.
This course has been designed for beginners in graphic design to build and enhance their drawing skills. All a learner needs to have is a computer with a basic internet connection. By creating square animal icons, you will develop your hand to eye coordination, think creatively and improve your 2D drawing skills. We live in an era of information technology where almost every business needs the expertise of a graphic designer. Graphic design is a good source of earning for anyone who has command of different drawing tools and software, especially Adobe Illustrator. This course is vital for anyone who wants to use 2D drawings for several purposes, such as children's art books, illustrations, process diagrams, picture stories, advertisements and more. Don't miss out on the opportunity to learn how to create square animal icons in a fun and straightforward way!
Start Course Now