Adobe InDesign CS6
Learn about creating professional posters, flyers, brochures and more with this free online Adobe InDesign CS6 course.
Publisher:

SimonSezIT
This free online Adobe InDesign CS6 course teaches you how to use the popular desktop publishing platform Adobe InDesign. In this course you will learn about the basics of text formatting, image file formats and colour, as well as how an InDesign document is printed, and how its contents can affect your printing methods. Get started making professional posters, brochures, business cards and more in InDesign CS6 today with this free online course.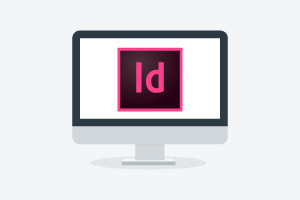 Duration

Hours

Accreditation

CPD
Description
InDesign is a desktop publishing and typesetting software program made by Adobe, and is widely used by publishing and print industry professionals for creating posters, brochures, flyers, and even eBooks. This free online course will give you a detailed understanding of what it is and how to use it.
The course starts off with a basic introduction to the application, such as creating documents, navigating the interface, setting preferences and saving documents. Then the course moves on to the main tools taking you through each type, from basic selection tools to object creation, and object manipulation. Next the course moves on to creating text frames, importing text, how to use features such as find and change, and how to track changes for collaborative work on a document. You will also learn about formatting text, paragraphs and creating columns for displaying your content in magazine or newspaper layouts.
You will also learn about images, starting of with the digital image formats, and the differences between them and which to use where and why. You will learn about importing images, moving, resizing and cropping images; along with importing images from Adobe's free Mini Bridge software, fitting images into a content frame and how to add caption to them. You will learn about creating and drawing shapes using both the predefined shapes tools, and free hand drawing using the pen and pencil tools. You will learn about editing and formatting the shapes and how to work with anchor points. Finally, the course will teach you about colors and how different settings of the color of your images and documents can affect the costs and effort required to print your documents.
So, why wait? Start this free course today and learn key skills for making professional posters, brochures and more using InDesign CS6.
Start Course Now