Adobe Illustrator: How to Draw Steampunk Vehicle
Learn how to draw and create stunning graphics using Adobe Illustrator with this free online course.
Publisher:

Andrey Bzhitskikh
This free online course will teach you the methods and techniques used to draw in Adobe Illustrator. Many professionals use Adobe Illustrator to make logos, illustrations and animated concepts. You will learn how to draw and transform sketches to vector lines, correct contour lines and add fill to your drawings. In this course, how to add colour to your drawing using the Eyedropper and the Lasso tool will be illustrated. Enrol now!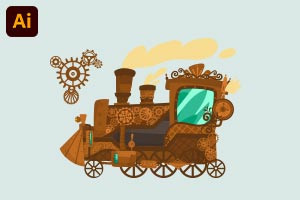 Duration

1.5-3 Hours

Accreditation

CPD
Description
Adobe Illustrator is a popular software application extensively used by many graphic designers, artists, architects and even engineers to create, draw and design stunning graphics. Graphics created using Adobe Illustrator can be integrated with other graphic design software such as AutoCAD and Photoshop. Adobe Illustrator is widely used for graphic designs because of its vector-based functionality that uses algorithms to draw sketches. This course will take you through the step-by-step process of drawing a steampunk vehicle from start to finish. You will begin by drawing illustrations of a steampunk vehicle using reference images. Following this, you will then be taught how to set up and prepare the Adobe Illustrator workspace for your drawing. The course will explore the various techniques used to transform your sketches to vector lines to make your picture scalable and easy to manipulate in this course. Furthermore, you will be taught how to use the 'Pencil' tool to correct the contour lines of your steampunk vehicle. You will also learn to add fill to your vehicle to make it colourable.
Adding colours to drawings makes them appealing and beautiful to the eye. Artists and graphic designers use colours to entice and induce the mood of viewers. You can also use it to highlight various areas of your drawings to make them appear outstanding and noteworthy to users. In this course, we will show you the step-by-step process of multiple techniques and tools such as the 'Lasso' and the 'Eyedropper' tool to add colour to your drawing. Adding colours alone is not enough to make your drawing exquisite and stunning. Adding some details such as shadows and lights to your drawing gives your drawing a more detailed and professional look. The final part of this course will teach you the techniques used to draw shadows, lights, scratches and highlights on your design using a steampunk vehicle as an illustration.
The resource for this course includes an image of a steampunk vehicle that you can use to follow along in the course. Regardless of your skill level, this course is ideal for beginners who want to create a fantastic portfolio by learning about the use of Adobe Illustrator to create graphic designs. It is also valuable for architects, engineers, construction experts and anyone who wants to create high-quality representations of their work. All you need is a PC and an installed Adobe Illustrator software application to get started. By the end of this course, you will have drawn an amazing-looking steampunk vehicle and learned about the core tools available in Adobe Illustrator. This course will enable you to transform and create any concept or imagination into graphic illustration people can appreciate and understand. So why wait? Enrol now and start learning invaluable skills in graphic design now.
Start Course Now