Caregiving Skills - Dementia Care
Gain the caregiving skills you need to effectively work with and care for people who have dementia.
Free Course
It is currently estimated that 47.5 million people worldwide live with dementia. If you work as a caregiver, or simply provide care to an elderly relative or loved one, you will more than likely encounter dementia at some stage during your duties. This will be a real challenge. This course will help you develop the physical and mental skills needed to provide care to clients who have been diagnosed with mild, moderate or even severe dementia.
Take this certificate on your own.
Start now and learn at your own pace.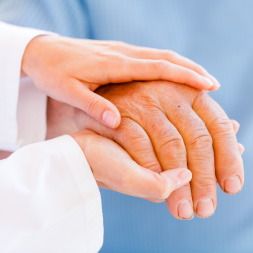 Description
This course will guide you through the essential elements of caring for someone with dementia. The course begins by helping you understand what exactly is meant by dementia. You will examine the various forms of dementia that exist and study their symptoms, causes, and how they affect the lives of those who live with them. You will then examine Alzheimer's disease, the most common form of dementia that you are likely to encounter as a caregiver.
The course will then introduce you to the most important skills you will need to provide effective care to people with dementia. You will learn effective non-verbal and verbal techniques of communicating with people with dementia. You will also examine common problematic behaviour traits that people with dementia can exhibit and learn the most efficient ways to prevent them. Finally, you will learn how to plan and implement activities for people with mild, moderate or severe dementia in order to cognitively and socially engage them.
Any of us many eventually have to care for a relative or loved one who lives with dementia, and for people working as a caregiver this is almost a guarantee. If you are ever confronted with this challenge, the skills this course will teach you will be very helpful, both for you and the person you care for. This will make a real difference. So get started today and prepare yourself to be the best caregiver you can be.
Start Course Now
Need Some Help?
What are the best free online dementia care courses?
How much does an online dementia care course cost?