Beginner Communication Skills
Learn how to improve your communication, presentation and telephone skills with this free online course.
Publisher:

TJ Walker
Whether you are giving a presentation to a full conference room or calling your boss, effective communication is the key to delivering your message. In this free online course, you will learn how to overcome your nervousness in any public speaking situation. You will also explore the techniques needed to avoid blunders when making phone calls and how to take control of your communication skills by always being professional in all situations.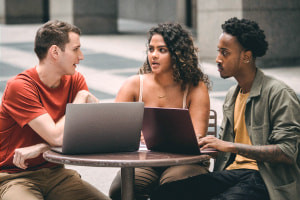 Duration

1.5-3 Hours

Accreditation

CPD
Description
In every career, you will need to communicate an idea or message to another person. Whether you are doing a PowerPoint presentation, giving a speech or participating in a conference call, you require the skills to deliver your point effectively. In this communication skills course, you will be introduced to good communication skills for the workplace by personal development expert TJ Walker. You will begin with the fundamentals of delivering a presentation which includes the messages you want your audience to take away from you and the stories you should tell to make your presentation even more memorable. Before any big presentation, what do you do to practice? This course covers the methods of rehearsal that will benefit you the most and why some of the most common techniques cause more harm than good. TJ finishes this section by discussing PowerPoint and what you should include in your presentation.
You will then take a deep dive into public speaking and techniques that you can use to feel comfortable in front of large crowds. You will begin with a couple of quick tips on public speaking, from creating a cheat sheet to avoiding fillers when you talk. What is the first thing you do when asked to give any speech? This communication skills training covers the initial steps of the preparation process and why you shouldn't solely focus on gathering as much data as you possibly can. TJ will cover the importance of receiving feedback to enable you to deliver the most effective speech you are capable of. He will even discuss the exact questions that you should be asking and which you should be avoiding when practicing with friends and colleagues. As this section comes to an end, you will study a collection of methods to overcome your nervousness.
This effective communication skills course finishes with proper phone etiquette and how to avoid blunders that can make you seem rude and unprofessional in a business setting. This includes how to prepare a quiet environment and additional materials you should have on-hand for making any important call, the information you should provide when calling someone and what to keep in mind when calling someone in a different time zone. You will also study a variety of tips that cover video conferencing, talking on the phone, practicing on your phone and even leaving a voicemail. You will wrap up with a look into how businesses are addressing different generations with regard to technology and how Hollywood has affected how we say goodbye on the phone. Throughout this course, you will learn how to improve your communication skills and form a solid understanding of delivering effective presentations and speeches, whether your audience is a crowded conference room or a single person on the phone. Enrolling in this course will teach you a vast amount of technical skills with practical ideas that will benefit you in the workplace setting no matter which level you are at or professional field you are in.
Start Course Now