Yoga Exercises for Core Strength and Flexibility
Learn advanced yoga exercises and breathing techniques for core strength, flexibility, inner calm, and stress relief.
Publisher:

Dashama
This free online yoga exercises course teaches more advanced Yoga techniques for core strength and flexibility. You will learn core exercises that will help fine-tune your body alignment and improve your balance and posture. You will also study poses that strengthen the neck, hips, and lower back and alleviate pain. This course also teaches important breathing techniques such as Breath Pranayama and Bliss Breath for inner calm and stress relief.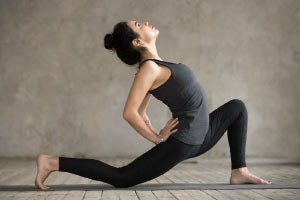 Duration

Hours

Accreditation

CPD
Description
Core exercises are crucial for well-rounded overall fitness. They improve your balance and stability and don't require specialized equipment or a gym membership. This course will help fine-tune your alignment with yoga balance poses for beginners. You will learn how to strengthen your wrists with stretches since they bear a lot of weight in so many yoga poses. You will also learn lean neck stretches that are helpful in relieving stress.
You will then learn yoga poses for the hips and lower back. This course will also teach you Vinyasa yoga where you will learn to coordinate movement with breath to flow from one pose to the next. You will also learn Breath Pranayama which is the formal practice of controlling the breath and helps in lung expansion. Finally, you will learn how to do bliss breath and yoga breathing for stress relief.
Core-strength exercises strengthen your core muscles which include your abdominal muscles, back muscles, and the muscles around the pelvis. This course will teach you how to gain strong core muscles to help you practice many physical activities with ease. You will also learn breathing techniques that help release stress. So, try out the course today, and continue your journey to a stronger and healthier you.
Start Course Now