Yoga Exercises - Revised
Learn how to improve your physical well-being and your state of calm, with this free online yoga course.
Publisher:

Dashama
In this free online course in yoga exercises will be guided through some really fantastic yoga techniques that can help make your yoga routine that one bit more special. Yoga is an exercise system used by millions of people around the world to gain a healthier physical, mental, and spiritual lifestyle. Dashama, who is an innovator in the field of using yoga for mind and body transformation and healing, is the course publisher.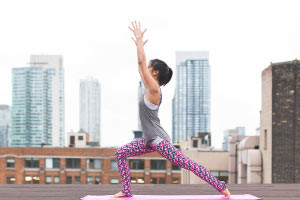 Duration

1.5-3 Hours

Accreditation

CPD
Description
This course starts by teaching basic yoga for beginners. You will learn the right way to do hamstring stretches, hip stretches, and shoulder openers and stretches. You will then learn how to do stomach massages, which are helpful for relaxing the stomach muscles and stimulating digestion. You will also learn how to do stretches for a lean body and inner thigh flexibility, and how to practice proper Pranayama yoga breathwork and Sun salutation.
Sivananda yoga focuses more on meditation, breathing, and spirituality and is one of the slower-paced styles of yoga. Chanting, meditation, and the same 12 basic poses or asanas and their variations are part of Sivananda, and this course will guide you through them all. You will learn how to adopt Sivananda's five branches of yoga philosophy which are relaxation and meditation, diet, positive thinking, exercise, and proper breathing. You will also learn how to start Sivananda with the Sun Salutation and end it in Savasana or Corpse pose.
Yoga practice is really helpful if you want to develop your flexibility and strength, as yoga poses and their variations can build core strength in the deep abdominal muscles when done right. This course will teach you how to practice several important yoga poses correctly, and how to breathe properly during yoga so you become less stressed and calmer. So, check out this course today and learn how to adopt a really excellent yoga routine.
Start Course Now