Introduction to Personal and Corporate Taxes
Gain better insight into the US taxation system including estate tax, federal tax, tax deductions, and tax credits.
Business
Free Course
This free online taxation systems course will teach you about the different aspects of personal taxation and corporate taxation with an emphasis on the US taxation system. In this course you will learn how to calculate tax rates on personal income and study the difference between tax deductions and tax credits. You will also look into estate tax, learn how the taxation system affects limited liability corporations, and more.
Take this certificate on your own.
Start now and learn at your own pace.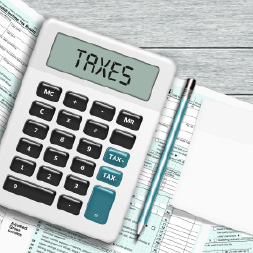 Description
This course begins with an introduction to the basics of the US income tax rate schedule. You will study the alternative minimum tax (AMT) which ensures that the taxpayers pay at least a minimum and recalculates income tax after adding certain tax preference items back into adjusted gross income. You will also study the estate tax which is a tax with a value that exceeds an exclusion limit set by law and levied on estates.

You will then look into federal taxes which are taxes paid to the national government, rather than to a state government. You will learn how to calculate federal taxes and also study the meaning and calculations for state taxes which is a direct tax levied by a state on your income. This course will also teach you about limited liability as applied to corporations. You will learn that limited liability limits a person's financial liability to a fixed sum, usually the value of his/her investment in a company or partnership.

There is an old saying that there are two certainties in life which are death and taxes. This is why it is a must that you gain a good understanding of personal and corporate taxes. Upon the completion of this course, you will become familiar with the basics of US income tax rate schedule, the alternative minimum tax, the basics of the estate tax, the calculation of federal and state taxes, and limited liability as applied to corporations. Sign up for this course and start your learning journey today!
Start Course Now
Need Some Help?
What are personal and corporate taxes?
What are the best free online personal finance and accounting courses?
How much does an online course on personal and corporate tax cost?